Sharing a Snack to Fight Child Hunger #AbbottCFK #CBias

The numbers are scary and sad – over 16 million children do not receive the nutrition they need. Child hunger is a problem I wish did not exist. Not that I like any problems, but when kids are affected… it strikes the heart deep. So, I worked on putting together a nutritious snack pack as part of this month's Champions for Kids simple service project. While this is an easy way to help out, I found it harder to pick out snacks than I thought!
I found myself looking at PopTarts and GoldFish… and sugary juice boxes. These are things we often see advertised as snacks, but they aren't packed with essential nutrients. And, when a child lacks proper nutrition, the quality of food is really important. So, I went with PediaSure, PediaSure Sidekicks (Abbott products!), organic crispy bars, and fruit cups. It was a pretty full grocery bag for about $30! I wish I could have found the Zone Perfect bars to add in, but I thought this was a good mix of items to help a few kids out.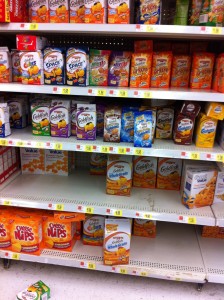 To see the rest of the shopping trip, please check out my Google +1 album.
I never donated to Family Sharing before, but decided that's where I was going this time. They have a food pantry and a resale shop to help families in need. Those who need clothes etc. get to shop "for free" and the money earned from other customers goes back into the organization to help people. I checked the website for donation information. It didn't have much for detail about food items other than not being expired. I did my best to get non-perishable items.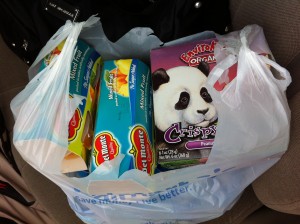 When I walked in, a nice woman asked to help me. I showed her the bag full of snacks and said I wanted to donate it. She said that was great. I told her there were kids' snacks as she peeked in and she seemed happy about that. I told her about the service project as she had never heard of Champions for Kids. It felt good to donate AND let her know about a great resource for those giving back to their communities.
Where would you donate a snack pack?
Twitter Party!
Come party with us at the Champions for Kids Twitter party sponsored by Abbott Nutrition. Please join us for this important hour as we talk about healthy food choices and helping those in need in our communities receive healthy food.
When: Thursday, January 19th at 9:00-10:00 pm EST
Where: On Twitter with the hashtag #AbbottCFK. You can also use this custom TweetGrid: http://bit.ly/w0Fsq1
Who: Please follow the party hosts, @FoundtheMarbles, @LizLongcrier and @MonicaJohnson
Prizes: We wouldn't have a Twitter party without prizes! We've got…
(1) $100 Walmart Gift Card
(1) $50 Walmart Gift Card
(2) $25 Walmart Gift Cards
RSVP to be eligible to win prizes!
____________
Disclosure: This shop has been compensated as part of a social shopper insights study for Collective Bias. All thoughts and opinions are my own. This is for a great cause!
Subscribe
Get weekly sanity saving parenting tips, recipes, and kids activities.