Save Time Shopping for Cat Litter and Other Pet Supplies at Mr. Chewy!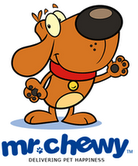 I hate shopping for cat litter. It takes time to go to the store and get it plus it's heavy.  I swear there is no such thing as an easy to carry litter container either. Granted my husband usually lugs it around, but still. I had to do it enough in my day and it is no fun. Plus, if you try to save a few bucks there's no guarantee the cats will like it or we didn't buy enough for a complete change out of all the litter boxes…
It's always something. Their food we have to buy from the vet, so it feels like we are running all over town just to get basic cat supplies. Well, now I know a better solution: shop at MrChewy.com. Mr. Chewy is an online pet food retailer that carries over 80 brands of pet food, treats and supplies and with free shipping on orders over $49… yes please!
Even without the free shipping, just being able to have it shipped to my front door is better than lugging it around the store, out to the car and then into the house. I was able to order a 34 pound bag of cat litter plus several pouches of cat treats for about $50. Yes, a 34 pound bag of cat litter.  We could never get that in store – it'd be insane. Bringing it into the house was pretty easy though!
The Mr. Chewy site is easy to navigate and search for pet products. I see they do have some prescription cat food for the urinary tract, which one of our cats requires. It's not the same prescription brand we currently buy through our vet, but if it's basically the same then I can eliminate all extra trips for cat supplies! This has become a bigger deal since we are now a one car household. The vet closes before Brian can commute home from work on most days, so we have to try and time our trips for Saturdays before noon. It was different when I had my own car for running errands.
If I could do all my shopping online, I probably would – at least for all our household necessities. I find it quicker and easier to pop online whenever I can (like oh, 3 am), add items to my cart and have them shipped to me. I'm home to receive packages, I just don't have the means to drive all over town! I do hope that Mr. Chewy adds Paypal as an option at checkout – that would make it even quicker and easier for me!
Where do you shop for your pet supplies? How many trips could Mr. Chewy save you?
Subscribe
Get weekly sanity saving parenting tips, recipes, and kids activities.