Recap of Blissdom Day 2 and Me Tossing Pizza Dough!
I will be providing a better recap later when I can think better. Right now my brain is full of knowledge, new friends, and screaming for sleep. But, I did record a quick video talking about my second day at Blissdom. I wish I could have gotten it out to you earlier, but I got swept up talking with new people and didn't get back to my room to edit until late.
While checking out the conference sponsor booths, I was excited to see Sbarro there. They are in our local food court at the mall and have yummy pizza. They had samples of their new "Skinny Slice" which is only 270 calories. It is delicious. I rarely eat meatless pizza (unless it's just cheese), but this was so good! Caramelized onions, peppers, mushrooms… mmm yum.
Anyway, they were asking us to try tossing the fake pizza dough. At first I didn't realize he was demonstrating with a fake one. I got shy when asked and politely declined. Then later I got an idea that a video would be fun. Totally out of my comfort zone so I needed a nudge. I asked on our Facebook fan page if you would like to see that…. some of you did so I felt like I couldn't let you down. I went back towards the end of the day and asked if they would record me.
(Video)
Please note…. I did not practice before the recording started! I have the full raw video where he's showing me before my attempts, but I cut that down for you. Xander slept in the Boba Air baby carrier while I hand tossed (fake) pizza dough! He missed all the excitement, I tell ya.
I'm glad I did it just for fun. Then I stood in line for that caricature. Oh and I promised an Amazon link to my portable battery charger from New Trent. I LOVE this thing. I bought it before attending BlogHer conference last year in August. So glad I did!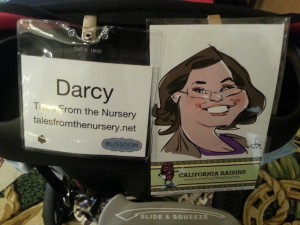 You know… I totally did not plan on doing daily vlogs of my experience here, but I'm glad I did. Hope you are enjoying them too!
Subscribe
Get weekly sanity saving parenting tips, recipes, and kids activities.