Quick and Easy Dinner Solutions with Campbell's Skillet Sauces @CampbellSoupCo
Even though I'm home throughout the day, I don't have time to slave over the stove. My toddler keeps me way too busy to prepare complex meals, that and this pregnancy can make me pretty lazy about cooking. (Sad but true.)  Even with Brian being the best hubby in the world and taking over most of the dinner making duties, we need quick and easy meal solutions. By the time he gets home from work none of us want to wait more than an hour TOPS for some food. Otherwise any one of us can get awfully grumpy.
Most of our meals have a fairly basic foundation of beef or chicken that we build off of and are frequently accompanied by pasta or rice. The thing is, we get into a recipe rut where we use the same tried and true ingredients. Unfortunately, this can get kind of boring no matter how much we love said meal, but it can be hard to deviate without it taking more time to prepare.
We're already fans of using "cream of ____" soups to help with dinner so we were very interested in trying the new Campbell's Skillet Sauces. Anything that only requires one pan to cook in is awesome by me. Who wants to clean up a ton of pots and pans after every meal? Not this girl.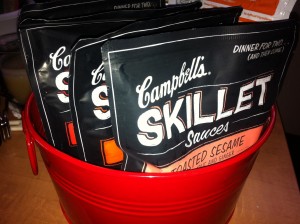 We received a sampling of Campbell's Skillet Sauces and had a hard time deciding which one to try first. I was immediately drawn to the Toasted Sesame because I love sesame chicken. The Creamy Chipotle sounded really good though too. For some reason I only thought these would work with chicken breasts initially, but after browsing CampbellsSauces.com for serving suggestions, I realized I wasn't limited to chicken!
And if there's one thing I love while pregnant it is tacos. Mmmm, yum.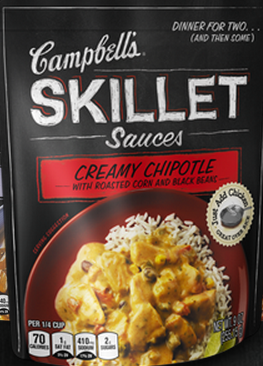 For a twist on our usual taco preparation, we used the Creamy Chipotle sauce. It was so easy too – just 3 steps!
1. Browned and drained the ground hamburger.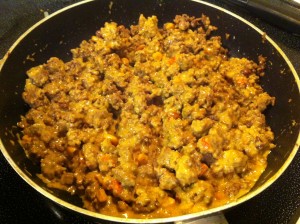 2. Mixed in the sauce and let it simmer.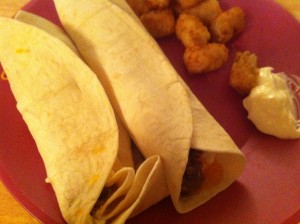 3. Served!
It tasted so good – just enough spicy heat with corn and black beans already added in. For this particular meal it wasn't any shorter than our usual taco prep, but it wasn't any longer either. I'm looking forward to trying out more for a quick and easy way to experiment with different sauce flavors.
Campbell's Skillet Sauces are available in six (6) great-tasting varieties:  
Creamy Chipotle with Roasted Corn & Black Beans
Marsala with Mushrooms & Garlic
Thai Green Curry with Lemongrass & Basil
Toasted Sesame with Garlic & Ginger
Fire Roasted Tomato with Red Bell Peppers & Chiles (not provided)
Scampi with White Wine & Garlic (not provided)
Ready in just 15 minutes, with three easy steps:
 HEAT. Heat oil in skillet over medium/high heat.
 ADD. Add your protein or vegetables and cook until browned.
 STIR. Stir in sauce and heat to boil. Reduce heat and cover for five minutes or until protein is cooked through and/or vegetables are tender.
Which sauce would you love to try out?
______
Disclosure: This is a sponsored post. Campbell supplied me with a sampling of these products so I could post about my experience. All thoughts shared are my own.
Subscribe
Get weekly sanity saving parenting tips, recipes, and kids activities.