PUR Minerals 5 Piece Starter Kit Review & Giveaway (US/Can) closed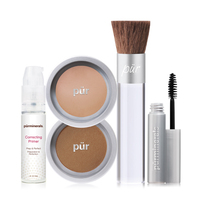 I recently received the new formula 5-in-1 starter kit from Pur Minerals. Pur Minerals produces mineral based makeup with ingredients that do good for your skin – takes care of it, not hurt it. They are committed to continually improving their formula. They also give back with charitable contributions, have reduced wastefull packaging, and offer a completely cruelty free line of cosmetics. None of their makeup is tested on animals!

Here's a little more information about the new starter kit I tried out:
Lots of makeup can make you look pretty, but how many can improve clarity or diminish the look of fine lines? More than just a get-the-look kit, Start Now! is an expressway to a naturally flawless complexion. In an eight-week clinical study, women of all ages saw an improvement in their skin's appearance after using this five-piece kit. Up to 89 percent saw a smoother, softer appearance while 75 percent experienced visibly less irritation than before.
This kit contains:
4-in-1 Pressed Mineral Makeup (.15 oz): Pure mineral pigment combined with the finest skin care ingredients, it is an all-in-one foundation of concealer, powder and SPF 15.
Neutral Primer (.3 fl oz): It has a skin correcting formula with special key ingredients that minimize the look of pores, dark spots and fine lines.
Mineral Glow (.12 oz): Gives your skin a nature looking touch of sun. Made with premium quality minerals and with firming ingredients.
Impact+ Mascara (.12 oz): Lengthen, thicken or curl—most mascaras give you just one option. Impact+ gives the ability to Lengthen, thicken and curl your lashes with the added bonus of extreme lash hydration for naturally healthier looking lashes.
Chisel Brush: Designed specifically for the 4-in-1 pressed mineral makeup. It is made cruelty-free. It's a total coverage brush that helps with even application. Also works with Pür specialty powders.
I haven't been able to use it enough to tell you what it has done to my skin. I can tell you that my skin feels soft even with it on. This makeup is light, which is good. No one likes to feel the weight of their makeup all day long! The primer goes on nice and smooth, absorbing quickly. The chisel brush helps me put the pressed foundation combination on evenly. I wasn't sure how well I'd get matched to my skin color. I'm quite pale and it can be hard to find foundation that matches me appropriately!
The mineral glow was okay. I couldn't really tell the difference when I wore it, though that may be just my perception. I did notice it when I had a long smear on my cheek from it! I was able to rub it in and apply it. The mascara was all right. It's hard to put on with a toddler yanking on your clothes though! It was fine, I just didn't really notice anything too different than what I've already tried before.) I really liked the brush though!
Giveaway!
Enter using the Rafflecopter form below. Duplicate entries will be invalid. The only required entry is to provide your name, email and what color kit you'd get, the rest are optional.




______
FTC Disclosure: I received the product(s) mentioned above free of charge by the company or PR representative in order to conduct an honest review. I was not compensated in any other way for this post. The thoughts, experiences, and opinions included are entirely my own and may differ from that of others. I am not liable for any issues you may incur from use of said product(s). Images used are owned by me or provided with the company's permission unless otherwise sourced. See full disclosure information. If you have any questions you can contact me or leave a comment.
Subscribe
Get weekly sanity saving parenting tips, recipes, and kids activities.