Pledging to the Sistahood #Mamavation Monday
Hi, my name is Darcy and I like to eat sweets and everything bad for you. But that's okay… I only have a couple days left to stuff my face so freely. Then it's time to face the music because today is the last day before the start of a new year. A chance at a fresh start. While I tend to do goals rather than resolutions, this might seem awfully resolution-y. I mean, why wait until the beginning of the new year to make lifestyle changes?
Simple. I was pregnant for most of 2012!
That and doesn't it seem easier to start something new at the beginning of the year or even the beginning of the week?
Now it's time for me to get serious.

(Sorry, the video was apparently missing after my post published! Grrr!!)
Please note I misspoke about my weight in the video. I was 230lbs at the start of my pregnancy with Rissa but at 220lbs at the start of my pregnancy with Xander.
Up til now I've been half-assing it. Sure, I've made some healthier changes, but they aren't enough to get my weight under control. I need to stop making excuses and stop being scared. Scared of what exactly….I don't know, but change is kind of frightening, isn't it?
After I finished this video I weighed myself for the first time since the day before Xander's birth. I weighed 239lbs at that last doctor appointment. So this was a bit of a surprise: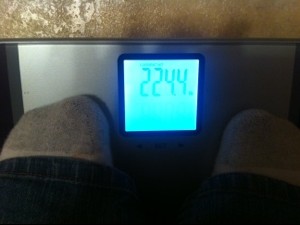 224?
Well, I suppose a good portion of that weight was birthed out and the breastfeeding is helping too. With Rissa I quickly and easily lost 30 pounds without trying, but then proceeded to gain back 20. I maintained for quite awhile. This time I am not going to fool myself into thinking nursing will take the weight off and keep it off.
So my first step? Pledging to the Sistahood and applying to be a Mamavation Mom. When I did Weight Watchers I did well while attending meetings. Once I stopped going I slacked off. This tells me support and accountability is key for me.
I hope you'll help support me in my journey and I'll try to support you too. Who knows? Maybe I'll motivate it inspire someone else to take control of their health?
Comments are always lovely and if you want to support my application please tweet this:
Hey, @bookieboo! I want @Syrana to be the next #Mamavation Mom. She has my support! http://t.co/0O3zdpWd
Subscribe
Get weekly sanity saving parenting tips, recipes, and kids activities.