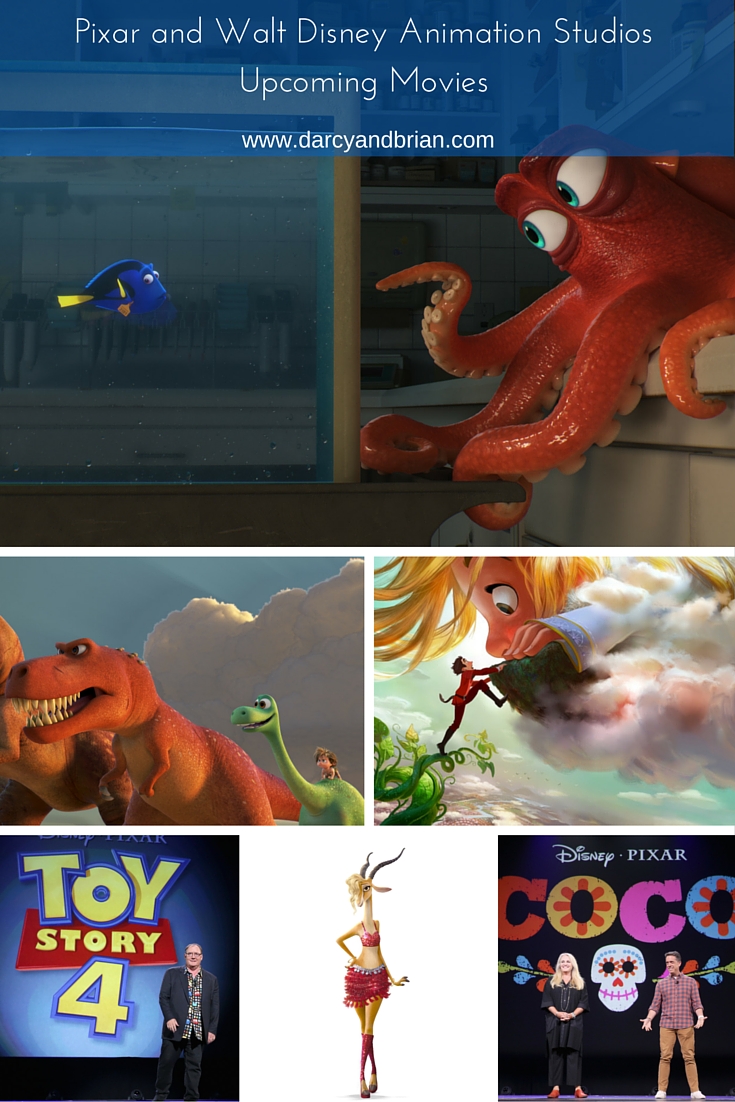 Thanks to all the information coming out of the D23 Expo recently, we can see there are a lot of great movies coming our way. Right about now, I think I need to start deciding which ones we'll see in the theater and which ones we'll wait to watch at home. Of course, I'd LOVE to take the kids to see all of these in the theaters, but the reality is that is not happening. I'm really excited about the animated films lined up from Disney Pixar and Walt Disney Animation studios. If I had to pick one that I'm most excited about, it would probably be Toy Story 4. Or Finding Dory? Oh gosh, please don't make me pick only one. I do think we'll need to take Xander to see the The Good Dinosaur movie for his first movie in a theater because it comes out so close to his 3rd birthday!
THE GOOD DINOSAUR (#GoodDino)
In theaters on November 25, 2015, the film introduces audiences to Arlo, a sheltered Apatosaurus who finds himself far from home, and Spot, Arlo's unlikely human friend. "Arlo and Spot journey through a world that has been greatly inspired by the American Northwest," said Sohn. "It is epic in scope, soul-enriching and simultaneously beautiful and treacherous. In this world, we meet up with a very special family of T-Rexes, who help Arlo find a way through his personal fears and ultimately teach Arlo what he's truly made of."
ZOOTOPIA (#Zootopia)
Said Howard, "For the role of Gazelle, Zootopia's most beloved superstar, there was only one person on our wish list: Shakira. Luckily for us, she said yes. Her immense talent and charm bring Gazelle and her song, 'Try Everything,' to life." Walt Disney Animation Studios' ZOOTOPIA opens nationwide March 4, 2016.
FINDING DORY (#FindingDory)
Ellen DeGeneres ("The Ellen DeGeneres Show"), the voice of everyone's favorite forgetful blue tang, took a dip with D23 EXPO attendees this afternoon, celebrating Disney·Pixar's upcoming film FINDING DORY. Joining DeGeneres on stage this afternoon were Ed O'Neill ("Modern Family"), who lends his voice to Hank, a cantankerous octopus; Ty Burrell ("Modern Family"), the voice of Bailey, a misguided beluga whale; and Kaitlin Olson("Always Sunny in Philadelphia"), who voices Destiny, a kind-hearted whale shark. Oscar®-winning Director Andrew Stanton ("Finding Nemo," "WALL•E"), co-director Angus MacLane and Producer Lindsey Collins (co-producer "WALL•E") offered details about the all-new story, which reunites Dory with friends Nemo and Marlin on a search for answers about her past. What can she remember? Who are her parents? And where did she learn to speak Whale? Also featuring the voices of Albert Brooks, Eugene Levy and Diane Keaton, Disney·Pixar's FINDING DORY swims into theaters June 17, 2016.
MOANA (#Moana)
Dwayne Johnson ("San Andreas," "Furious 7," HBO's "Ballers"), who lends his voice to the mighty demi-god Maui in Walt Disney Animation Studios' MOANA, hit the stage at D23 EXPO this afternoon. Renowned Directors John Musker and Ron Clements ("The Little Mermaid," "The Princess and the Frog," "Aladdin"), and Producer Osnat Shurer (Oscar®-nominated Pixar shorts "One Man Band," "Boundin'") shared dazzling early test footage and revealed plans for the film's inspired music and the extraordinary team behind it. Tony®-winner Lin-Manuel Miranda (Broadway's hottest new hit "Hamilton," Tony-winning "In the Heights"), Grammy®-winning composer Mark Mancina("Speed", "Tarzan" "The Lion King") and Opetaia Foa'i (founder and lead singer of the world music award-winning band Te Vaka) blend their diverse and dynamic talents to help tell the tale of a spirited teenager who sets out to prove herself a master wayfinder. Foa'i and his band Te Vaka capped the presentation with a show-stopping performance illustrating the magic of the movie's music. MOANA sails into U.S. theaters on November 23, 2016.
TOY STORY 4 / TOY STORY 20th ANNIVERSARY CELEBRATION (#ToyStory4)
"I'm very proud of our films," said Lasseter. "When we made the first three TOY STORY films, we didn't realize what we had done was to change the genre of each of the films' story. For TOY STORY 4, we are doing a type of story we have not done before: a love story. It's a story about a relationship between Woody and Bo Peep." TOY STORY 4, which will be directed by Lasseter and produced by Susman, is slated for release on June 16, 2017.
GIGANTIC (#Gigantic)
Things are looking up at Walt Disney Animation Studios – way up. GIGANTIC, Disney's unique take on "Jack and the Beanstalk," will feature music from Oscar®-winning songwriters Kristen Anderson-Lopez and Robert Lopez, who greeted D23 EXPO fans in signature style—in song—alongside Director Nathan Greno ("Tangled") and Producer Dorothy McKim ("Get A Horse!").
"I always wanted to be part of the Disney legacy," said Greno. "I loved those classic stories brought to life—'Snow White' or 'Cinderella'—in a way that made those films the definitive version for generations. I want to carry on that tradition by bringing 'Jack and the Beanstalk' to modern audiences. We're taking parts of the story we all remember and adding twists and turns, emotion and humor."
Set in Spain during the Age of Exploration, Disney's GIGANTIC follows adventure-seeker Jack as he discovers a world of giants hidden within the clouds. He hatches a grand plan with Inma, a 60-foot-tall, 11-year-old girl, and agrees to help her find her way home. But he doesn't account for her super-sized personality—and who knew giants were so down to earth? GIGANTIC hits theaters in 2018.
COCO (#Coco)
Director Lee Unkrich ("Toy Story 3") and Producer Darla K. Anderson ("Toy Story 3") revealed the title of their upcoming film: Disney·Pixar's COCO is the celebration of a lifetime, where the discovery of a generations-old mystery leads to a most extraordinary and surprising family reunion.
"As artists and filmmakers, we couldn't help but be drawn to the striking visuals of Dia de los Muertos," said Unkrich and Anderson. "But it was the celebration's core themes of family, remembrance and connection across generations that resonated within and truly inspired us. Dia de los Muertos is as singular as the Mexican culture, while at the same time completely universal in its message.
"In our story," they continued, "the celebration of Dia de los Muertos serves as the perfect backdrop for our main character to ask where he comes from, what his place is within his family, and how families stay woven together across time through the simple act of remembrance."
Which movie are you most excited about?
Subscribe
Get weekly sanity saving parenting tips, recipes, and kids activities.