When I go shoe shopping, the first place I like to go is Payless Shoe Source. They tend to have great deals whenever I need a new pair of shoes. I hate ordering shoes online because I have wide feet. It's very important for me to actually try shoes on before buying.
My husband would tell you that shoe shopping with me is not very fun and often ends in tears. (This is true) But I'm particular about what I will wear plus the whole funky size thing…
Anyway, while I shop Payless for shoes, I always forget that they offer more than just footwear! They also carry stylish accessories such as scarves and handbags – great way to shop for shoes AND matching bag at the same time, right?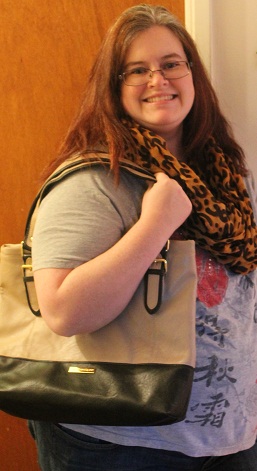 I always feel a little awkward trying to model fashion items for you. It's much easier for me to be the one taking the pictures of the kids!
This handbag makes a nice gift for the purse lover on your shopping list. It has long enough straps to make shoulder carrying comfortable and it's pretty roomy.
Their infinity scarves are practical and fashionable for winter. I do t really know how to properly wear a scarf as part of my outfit, but at least there's no tying with the infinity style scarves! Makes it harder for me to get it wrong…just loop it over my head and go. Now I just need to find a better sweater to pair it with or maybe my black dress with gold dots?
A scarf and lip gloss make great stocking stuffers! I had no idea Payless sold any beauty products until recently. (Maybe I'm the last to know…wouldn't surprise me.)  This lip gloss is fun and flirty. Nowadays I prefer gloss to lipstick. I've muted my colors down, but want a nice sheen and an easy way to apply on the go without a mirror.
What would you pair these items with?
_______
Disclosure: We received the above items to review.
Subscribe
Get weekly sanity saving parenting tips, recipes, and kids activities.