Owie Pillow is the Solution to Seat Belt Discomfort During Pregnancy!
When I was pregnant, my growing belly created a lot of uncomfortable moments. One of main places was in my car. It was hard to get in and out, the seat belt just didn't go around me right anymore, and I worried. The lap belt was constantly a pain. It had to lay just right against my belly or it irritated me. I think I irritated everyone else about it…
I was still working full-time then and had a 45 minute commute to work. I also drove a lot during work to attend client meetings throughout the county. I found myself constantly readjusting the belt and playing with it. I'd try to have it rest higher until I worried too much about getting into an accident. Then, I would try to get it to stay put under my belly.
It just wouldn't stay how I wanted it and it was uncomfortable. My belly came close to touching the steering wheel and thoughts of smashing against it made me uncomfortable.
It was just… all around uncomfortable in my car.
Thankfully, a mother-to-be realized how uncomfortable the seat belt was for her belly and for other pregnant women. She decided to make a change and create a product to meet the needs of pregnant women who drive or spend a significant amount of time in their cars.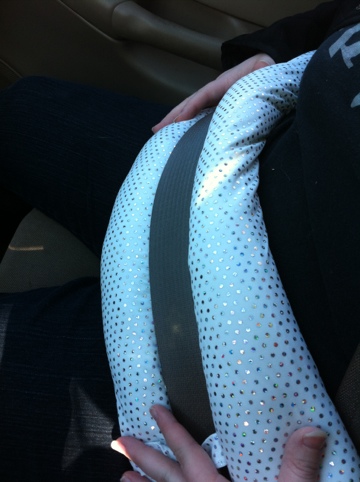 This is the Owie Pillow. Even though I'm not pregnant right now, the basic idea is still the same. The pillow easily attaches to the lap portion of the belt using velcro loops. The pillow fits across the belly between it and the material. Owie Pillow offers fun and trendy options that are well made. (I couldn't get the bling to come off of mine!)
It's really a uniquely simple idea that solves a problem many pregnant women have. All the pre-baby shopping isn't going to buy itself! Someone has to get in the car and go! This would have been nice to have while I was pregnant. I can't tell you how many times the seat belt rubbed my stretched out belly button and just grated on my nerves.
Now, the pillow is not meant as a substitute for proper safety measures nor does it qualify as an air bag (though it may give you extra cushion).
Favorite feature: Super easy to use, soft, and stylish.
Least favorite: That I didn't know about it before!
Verdict: If you spend a lot of time in your vehicle, you may want to consider buying one or give it as a gift once a friend has announced being pregnant. Also, the use doesn't stop here, it can also be used as a travel pillow.
Subscribe
Get weekly sanity saving parenting tips, recipes, and kids activities.