I try to share recipes here and there, but I'm not the most creative cook or baker. I suppose I don't have to create brilliant dishes in order to share though, huh? Maybe you'd just like to know a few tasty things I was able to make without screwing it up! I'm hoping to share more recipes in the coming year, but thought it'd be interesting to share which recipes got the most visits over the past year. Here they are in order of the most traffic to the lowest.
Top 10 Recipes at Tales From the Nursery in 2012
1 – Delicious Sweet and Sour Meatballs
Oh how I miss our recipe contributor! She shared some really yummy dishes with us. This one was a favorite among our readers and fans!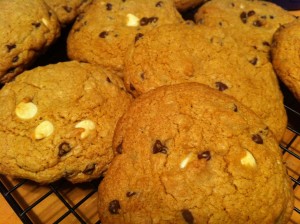 2 – Low Sugar No Butter Chocolate Chip Cookies
This was one of my successfully tweaked recipes. Yummy cookies with fewer calories. It's a total win!
3 – Chocolate Abyss (A twist on Dirt Cake)
I created this one for a recipe contest and won! It was pretty tasty. I even made a slightly different version for my daughter's birthday party and called it Swamp Cake.
4 – Strawberry Banana Avocado Smoothie
This is still a breakfast favorite in our house! I never thought I'd like avocados in my smoothies so much but wow, delicious. Super brain food to start you and your kids off right for the day!
5 – Valentine's Day Snickerdoodle Cookie Variations
I was playing around with some holiday M&Ms which you all seemed to like! Snickerdoodles are so good – one of my hubby's favorite cookies.
6 – Rainbow Cupcakes from Scratch
I'm sort of surprised at how popular this post is since I kind of failed. They looked pretty, but were dry. Add more moisture to your recipe or use regular flour rather than whole wheat pastry flour!
7 – Blushing Bride Punch (non alcoholic)
This is a good one to serve at kid friendly parties. I took some fan suggestions and tweaked 'em til I came up with something a little different.
8 – 2 Ingredient (or Step) Cranberry Apple Cupcakes
I say it's 2 ingredients but some don't like me calling cake mix an ingredient… so if you want.. call it 2 step cupcakes. You just need cake mix and juice. Voila. Done!
I love this for dinner. It's easy and yummy. I wanted to call it Mexican Lasagna, but wasn't sure if that was the best description or not.
This didn't set as well as I would have liked (freezing probably would be better than the fridge). It was pretty delicious though!
Subscribe
Get weekly sanity saving parenting tips, recipes, and kids activities.