Disclosure: I am participating in the Verizon Moms Voices program and have been provided with a wireless device and six months of service in exchange for my honest opinions about the product.

Despite all the articles out there claiming technology and screentime is ruining families, we continue to incorporate them into our lives. Sometimes I feel guilty after reading those types of posts, but mostly I've made peace with myself. I know we could use them less but we also use them pretty responsibly. Maybe we could be "more" without them, but I think we are doing fine. We aren't ruined!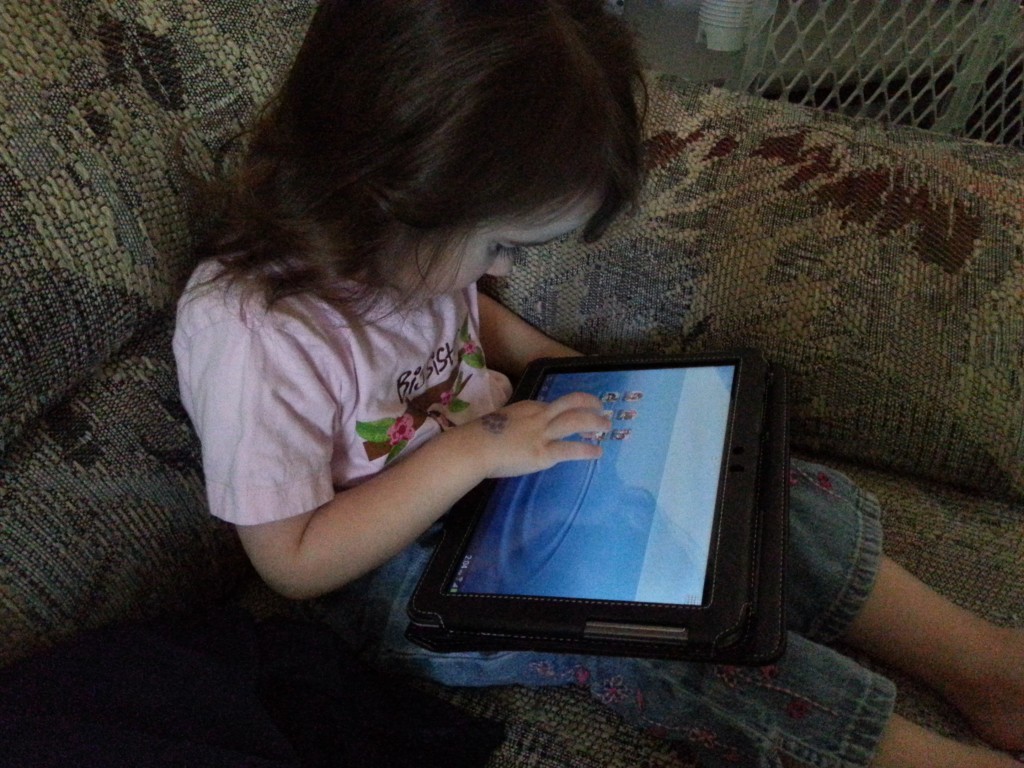 So, yes, that means my almost 3 year old daughter uses our smartphones and tablets. She's pretty good at finding her way around too.
While she does play a few games and watch videos, what she really enjoys are interactive eBooks. I first introduced her to interactive stories on my phone during long car trips after exhausting every other means of keeping her content. This was usually the last half hour stretch of a three-ish hour car ride (not including pit stops). For the most part we don't hand her a device just to pacifier her. We generally are right alongside her. If we aren't assisting then she's playing on her LeapPad where she's working on counting or tracing letters.
We've explored a variety of apps – both free and paid – and Rissa has found her favorites (at least they've been favorites for several months). The ones from Oceanhouse Media are the best. They can read the story to you (and turn the pages!) and identify pretty much everything little hands will touch on the screen.
Little Critter –  Rissa loves Little Critter. I think the apps helped her interest in the physical books and vice versa. She loves to say, "All By Myself by Mercer Mayer!" It's too cute. Seriously.
Berenstain Bears – Noticing a pattern of your childhood classics? I'm loving how technology has breathed new life into these stories. The Bears offer valuable and timeless lessons in life that are great for little ones to learn from.
Dr. Seuss – We have ABC, Sleep Book, Fox in Socks… it's nice to have them in physical and digital format. These don't get opened as often these days, but were early favorites of Rissa's. She's moving away from so much rhyming right now, but Xander will likely enjoy these soon enough. (No, he doesn't get to play with the tablet yet.)
There are lots of great apps for Android and iOS offered by Oceanhouse Media and we really like their features so we recommend checking them out!
We utilize a combination of physical and digital books for story time whether it is during the day or at bedtime. The larger screen on my Samsung Galaxy Tab2 makes everything easier to see for all of us, but is more convenient for travel.
What are your kids' favorite apps?
Subscribe
Get weekly sanity saving parenting tips, recipes, and kids activities.