When I was little, my favorite part about playing with fashion dolls was changing their outfits and hair styles. I also liked setting up their houses but by the time I'd have everything set out and everyone changed I'd grow bored and put them all away again. Then again, I didn't have a lot of fancy frills or anything. I had a car and accessories, but I didn't have doll houses or store fronts. Those cost too much! I preferred getting new clothing and dolls when it came down to it. I never had to wait as long for those.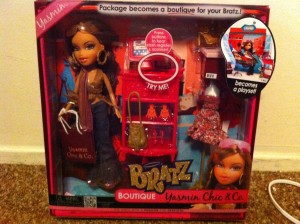 So, I admit I had a little too much fun playing with Yasmin from the new Bratz Boutique Doll line as well as checking out Sashabella Paws of the Bratzilla line (perfect for Halloween!). It brought back some memories, even down to telling my daughter not to touch my store. Haha, well, that was more to keep her away from the small pieces. These dolls are certainly more appropriate for elementary aged children than toddlers.
The dolls I used to play with definitely had a different look and quality to them. Some were very, um, flimsy and easy to take apart. Others appeared just too perfect! Thankfully clothes fit on pretty much everyone. I was forever losing the shoes though. I was awful at keeping track of those. It surprises me how some of the newer dolls today have detachable feet. No more worrying about shoes falling off the feet – they are part of them. I kind of like that, actually.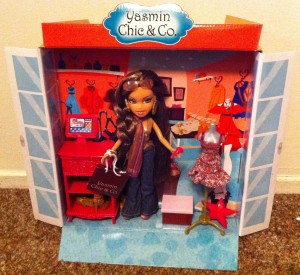 While I do think some of the Bratz clothing can be on the more provocative side, they do have a lot more fashion sense and style than I do. These dolls pull of their looks nicely. I thought incorporating the packaging into creating the boutique was a clever idea, though putting it away is a bit trickier. It didn't work quite as well as I'd hoped to put it all back into the original box, but I'm not sure how else to keep all the pieces together and keep the store from getting bent out of shape. I do like that you can actually attach the scanner to Yasmin's hand!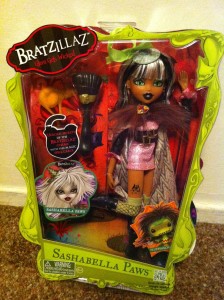 My Bratzilla doll I love with Halloween approaching. She totally fits the stylish witch part (instead of the ugly, wicked witch) and comes with a doll stand. I think she might become holiday decor around our house rather than a toy to play with. We'll have to see how long I can keep my daughter away from her. I wish she came with her pet though! I know some people may not care for a witch-type doll that comes with a tattoo marking on her leg, but I found it a nice break from the usual. There are plenty of dolls dressed up to look pretty and others to represent professions – why not have some fun?
______
Disclosure: We received these dolls to review.
Subscribe
Get weekly sanity saving parenting tips, recipes, and kids activities.