Technology Gadgets | Nextbook Premium8 Tablet Review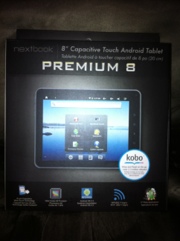 We received a Nextbook Premium 8 Tablet to review. It's a neat little device that is a big larger than a smartphone, but smaller than your standard-sized tablets. It's running Google's Android 2.3 operating system, so it's pretty familiar to those with other Android devices. It has a nice and bright 8-inch touch display and a front-facing camera. It comes with a few helpful apps installed: the Kobo Ebook Store, which gives you the ability to buy eBooks directly online from the tablet, SlideME, which is where you can download more apps, the Astro File Manager, Advanced Task Killer and Office Suite Viewer.
I was able to copy over some music and movies from my PC to the tablet using the included USB cable. The items then showed up in the tablet's media library. It makes a nice, portable video and music player. It only has 4GB on-board, so make sure you keep an eye on that. Though, it does have the ability to use up to 32GB MicroSD cards for storage. We don't have a MicroSD card, so we couldn't test that.
We browsed around the included eBook Reader and skimmed through some of the free 25 eBooks they give you. It's a good eReader if you plan on reading in bed with the lights off. No need for a separate light. We didn't try purchasing any books since we already own another eReader.
One thing we were disappointed with is the missing Android Market. The Android Market is the official Google app store where you can find all of the standard and popular apps available for Android. This tablet comes with the SlideME App Market. I browsed it a little bit, but I didn't see one app that was familiar, even when sorting by "Most Popular." No Angry Birds, no Words with Friends, no Netflix, etc. The other option is to manually download apps in the .APK format and copy them to your tablet from your PC. I did a search for APK files, but I really didn't want to download a file from an untrusted website.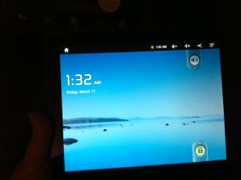 Overall, it's a decent little tablet. If you're looking for something less costly than some of the larger tablets out there (iPad, Motorola Xoom, etc) or something larger than a standard smartphone, you might want to try this one out. And hey, our daughter likes playing with it! It only uses WiFi, so you don't need to purchase an ongoing service contract. Of course that means you can only access the internet when you have WiFi access. But, the eReader works as well as other content you load onto it (pictures, etc). However, if you are looking for more online functionality, productivity, and a wider selection of trusted apps, this might not be the right tablet for you. It's not the cheapest option, but it's not the most expensive either.
Where to buy: Amazon
Subscribe
Get weekly sanity saving parenting tips, recipes, and kids activities.