New Must Have Ovulation Calculator App if Trying to Conceive!
The e.p.t. Ovulation Calendar came at the right time, I think. It JUST came out on March 15th. I downloaded it onto my iPhone and plugged in my last period to see fertility week suggestions along with suggested due dates. Love that they do the math for me!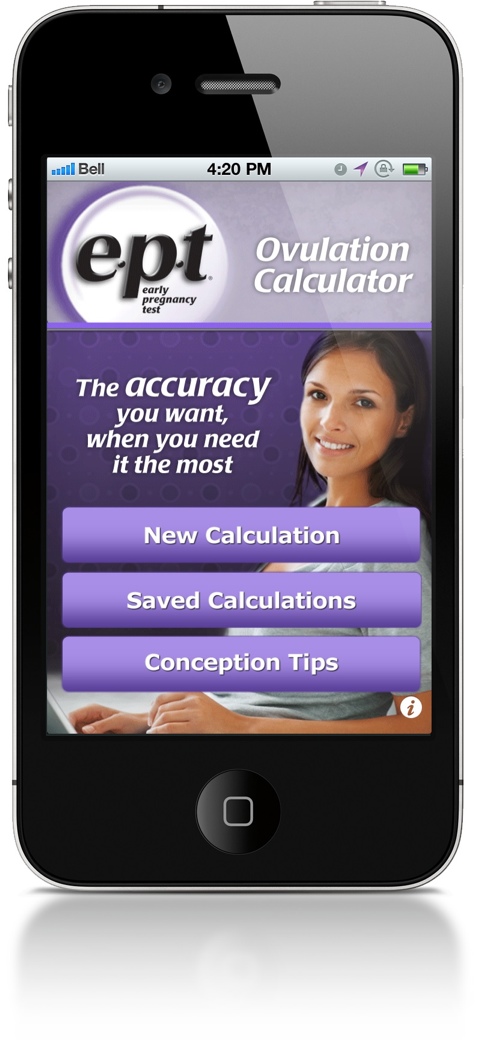 Trying to conceive can be a daunting task. It's crazy how there is this small window each month (for the average woman) in which it can happen, but when you are actively trying to hit it… it is not as easy as it sounds. Ovulation is dependent on a woman's individual body and menstrual cycle, though there are averages to work from. The key to planning conception is tracking the cycle and watching for a pattern.
Oh, and of course, doing the deed with your partner every other day during your ovulation week. Boom chicka wow wow.
Anymore it is a pain to bust out calendars to plot and chart periods, flows, temperatures, etc. After 3 years of trying to conceive Aerissa, I can say it can be stressful to track. The better approach is to find a less stressful way to keep track and try to figure out when I'm ovulating. In the past it was all guesses since I was not ovulating regularly or on any sort of schedule that I could discern. (Mostly due to my body's inability to ovulate each month, but my sporadic record keeping didn't help either.)
I turned to the easiest, most simple way to try my cycle and our baby making attempts: an iPhone app. I needed this because my records were shoddy at best as my memory on these "unforgettable details" became more fuzzy in my mind. Unfortunately, the app I used previously has become less user friendly in my opinion and is full of annoying ads. Thankfully e.p.t. came out with a new one!
So here's why I see this app as a TTC must have right away:
It's free!
It's easy to use!
Easy calendar or list view format for expected ovulation and period dates!
I trust e.p.t. for my home pregnancy tests, so I trust them to help me track my attempts too!
They can send you an email reminder (and to hubby too!) a day or so before ovulation is to begin!
You can add it to your iPhone calendar with an alert with just one button!
It has 35 conception tips!
Pretty cool huh?
Here are my next 3 estimated fertile times (though the March one just passed, ahem), which due date should we go for?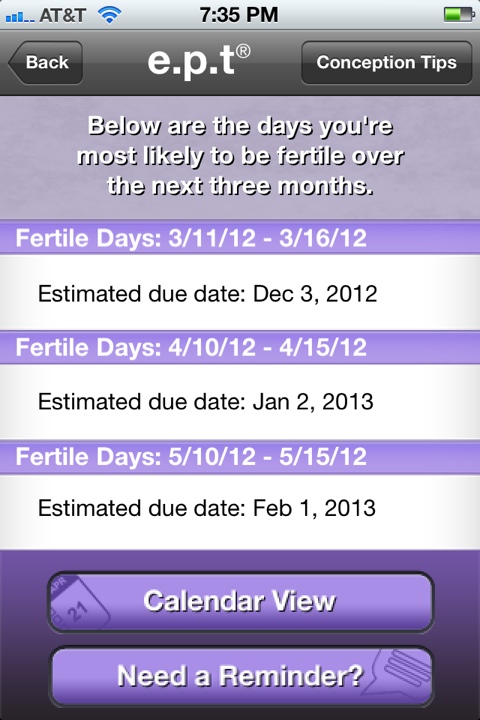 Subscribe
Get weekly sanity saving parenting tips, recipes, and kids activities.