New Mama's Day:What I Love About Being a Mom
{Please welcome the lovely lady who made the event button: Mary of iNeed a Playdate!}
What is my favorite part about being a mom? What are my favorite parts of being a mom? My favorite part? The endless diapers? The years of potty training? The screaming fits, while teething? The quiet moments of cuddling? Their sweet smiles?
My favorite part of being a mom…?
… the memories that we are creating and not just the traditional kind but also the ones that are less then traditional. I love that with each activity we do they will hopefully be stronger, more self reliant adults.
… being able to share our love of going to the movies with them. Watching their little faces light up at the screen is such a delight and makes watching some movies actually enjoyable.
… that my Kindergartner got to visit me (thanks to the Husband) when I waited tables at a blues bar/restaurant. It was his first exposure to live music when he was two and he is hooked! I love that he was/is out going enough to also dance with everybody.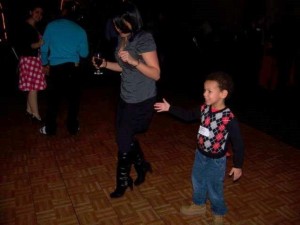 … that for the last two years my Kindergartner has been my date to my company holiday party (one time was at above mentioned blues bar/restaurant).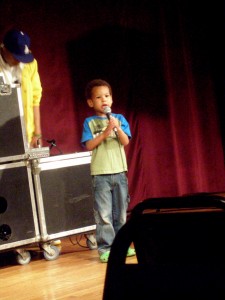 … watching them be themselves. Like when my company held a concert for their employees; by the employees, my son got up on stage for the sound check and proceeds to sing and banter for at least 10 minuets. He was 3 ½ and no one had a clue what he was saying. I translated.
… learning their personalities. My son has an obsession with the City of Cleveland and its bridges, train signs and stoplights. I can drive all over a certain area of Cleveland and he is in heaven!
… the things we create in our home, at the dining room table or in the kitchen.
… that I can take them anywhere and everywhere; no matter what the event and they, especially my Kindergartner, have a ball.
… that my Kindergartner has "sung" on an album.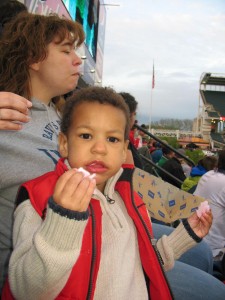 … taking the kids to Cleveland's museums, parks, sporting events and libraries. I love just spending time with them and sharing our city with them. I probably have more pictures of them doing all of these things then I have of me in my entire life time.
… sharing the good times and the sad times. The Kindergartner got to say good bye to his beloved Uncle and even said the Hail Mary with my mother at the funeral.
… teaching them to help others. I take the Kindergartner (and hopefully the bébé) to volunteer events and he participates.
… showing them how to be compassionate. The Kindergartner is becoming comfortable visiting his Grandmother in a nursing home and I pray that this will make him a more compassionate man and I love that the bébé shows no fear when going up to someone in a wheelchair and smiling.
There are so many things I love about being a mom, a mother, a ma, a mama, a mommy… that there are not enough words in the dictionary to explain why but what I love the most, what my favorite part of being a mother means is that when we look back – we will look back and remember all of the wonderful things that we exposed our children to and know that we made the most of the time that we had with them. Not to mention… the pictures to prove it.
Happy Mother's Day.
Subscribe
Get weekly sanity saving parenting tips, recipes, and kids activities.