My feet ache in a way I haven't experienced in quite awhile. I knew NYC and a conference would mean a lot of walking but I forgot about all the standing! I made sure to bring comfy shoes that were broken in (at least partially); however, I could have worn pillows and still ached. Thank goodness my tootsies received some much needed pampering the second day there.
I'm not complaining exactly, but it's very important to think about your feet first when attending something like this…a multiple day conference or even a Disney vacation. We are talking walking for miles a day (it adds up!) and standing in line, standing around, waiting for elevators, waiting for the bathroom, and overall lack of chairs.
Forget picking out outfits then matching shoes up, pick the shoes first! I (re)learned this the hard way for you.
I started out wearing sandals that stated to rub my little toes raw and cut across the top of my feet as they swelled. I swapped them for a different pair of sandals…
You know, so they would rub in new places. That was just one of five days in New York. The rest of the time I wore my walking shoes even with my dresses! Hey, they weren't ball gowns or anything.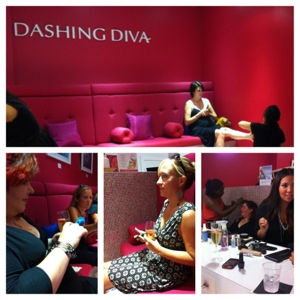 As a mom, I ignore my feet too much. I'm on them a lot and rarely go out to pamper myself. It was a real treat to receive a mani/pedi plus get my makeup done while in NYC for BlogHer12. The wonderful Tend by Glam team put it together at Dashing Diva Nail Salon in Chelsea.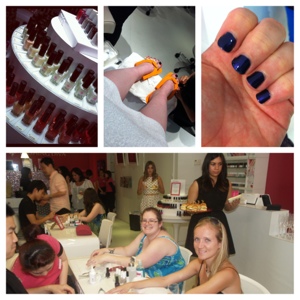 I have only gotten one other pedicure ever in my life though. I felt silly when asked about what I wanted or how I had no clue how to walk gracefully in the disposable flip flops while wearing toe separators. I was embarrassed to show my feet, but I doubt anyone cared. (I hope!)
The snacks and drinks looked delicious (cheesecake pops *drool*) but I had to refrain while with child. The food was really hard to resist. It smelled heavenly each time the tray was presented under my nose, but I was already struggling with keeping my blood sugars in check while traveling.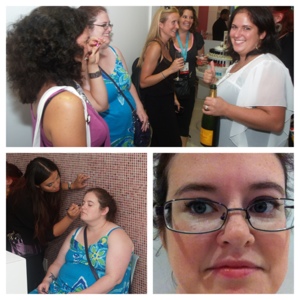 The best part of all though? Chatting it up with the other ladies! I spent some quality time with Amber of Parent Palace (hello, fastest taxi ride ever!), Melissa of The Mommyhood Chronicles, and Jennifer and Shelly of Sweep Tight (they were stalking me, I swear – we ran into each other a lot!). I also had the opportunity to meet and talk briefly (much briefer than I would have liked) with Olfa of Our Family World, Meagan of Sunshine and Sippycups, and Chelsea of Some Day I'll Learn. And of course the lovely Glam ladies!
When's the last time you pampered yourself? Did you do it on your own or only because someone else coaxed you to (like me)?
I received the above mentioned beauty treatments as part of a private event hosted by the Glam Network. I was not obligated to post – it was just meant to be a fun social event!
Images shown are a combination of those taken by me and those taken by the Tend team.
Subscribe
Get weekly sanity saving parenting tips, recipes, and kids activities.