Several months ago I had a crazy dream. I'm not quite sure if it was fueled by my desire for a LifeProof cellphone case, pregnancy hormones or both…but it was frightening. Well, frightening to anyone who is dependent in any way on their smartphone.
In my dream I was hovering over a large body of water while someone was driving/riding a jet ski below me. The details of this dream are quite fuzzy now, but somehow I fell into the water. Hanging off the back of the jet ski, the lower half of my body was submerged in water – including the iPhone in my pocket. When I got out, my phone was completely waterlogged – I lost everything on it! Suffice it to say, I backed my phone up upon waking!
When my LifeProof case arrived, the first thing I had to do was conduct a water test without my phone inside. This helped ensure there were no defects and that I properly closed the case. It was a relief to test it this way first because I'm still a tad nervous about what if… But this thing is waterproof, dustproof, shockproof, mudproof and snowproof. Yes! It can withstand my daughter!
I can't tell you how many times she's grabbed my phone and taken off, making me hope nothing bad happens to it. She's given me several near hearrt attacks, especially when in a throwing phase. Good thing this case can handle up to a 6 foot drop! Also, I'm guilty of using my phone during meal times. It's usually sitting next to my plate… tempting fate with a big spill.
Up until now, I've been pretty lucky. My days are numbered though… but now there's so much I can do without worry!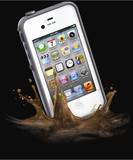 Adventures I can go on with LifeProof
Deep sea diving
Swimming with sharks
Mud wrestling
Bungee jumping
Sky diving
Snowboarding
Parasailing
… okay so these types of activities aren't my style, but at least I can relax when Rissa plays with my phone while we're grocery shopping and drops it from the cart. Or when it tries to slide out of my pants pocket while I'm using the bathroom. (But now it can function as an underwater camera!)
I've been impressed with how my LifeProof case has kept my phone protected, though I still have some issues with the screen responsiveness. I'm not a fan of screen protectors and find myself needing to press harder and fix a whole lot more typos than usual. Other than that, I haven't noticed a significant difference in how my phone functions overall with the case on. It's a pain to take off though since it's meant to stay on for day-to-day use to protect against unforeseen accidents as well as planned adventures.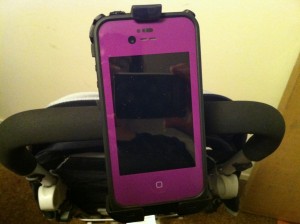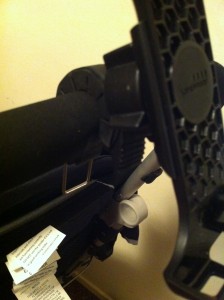 We also tried the bike mount which can be attached to bikes, four wheelers, and strollers to name a few. The thickness of your stroller bar will make a difference. I was having issues with the mount either being too lose (spinning on the bar) or too tight where I couldn't actually lock it into place. I have yet to try it on all of our strollers, so hopefully I can get it to play nice with at least one because I like the concept! We walk a lot when it's nice out, so this could really come in handy for me.
While I'm still adapting to my new case, I think it is a must have with a tech savvy toddler in the house (who's prone to sudden distraction and destruction).  At the very least my phone should now be protected against milk, yogurt and peanut butter. Maybe I can get some blogging done in the shower now too?
What adventures do you take your phone on?
LifeProof is also available for sale at Best Buy, AT&T, Target, J&R Electronics and Radio Shack. Protect your iPhone 4/4S/5, iPod 4 or iPad 2/3/4 today! (Other cases are in the works too.)
_____
Disclosure: We received a LifeProof case and bike mount for review purposes.
Subscribe
Get weekly sanity saving parenting tips, recipes, and kids activities.