Musical Fun With the Baby Genuis Rap & Tap One Man Band
Rissa's favorite part of storytime at the library is the music toys. She gets so excited to bang blocks together or shake maracas. She also loves to sing! In fact, she's been asking to sing more songs with me lately which is just super cute. (I'm trying to get her on video, but she always stops once I start recording.)  We love music in our home and encourage Rissa's musical exploration. (The girl does have a little drumset she plays with after all.) 
She has a variety of toys that incorporate music. They encourage her to make music, sing, and dance. And they are all different – they way I think it should be! Recently we received a fun new musical toy – a dinosaur named Rex who is the Rap n Tap One Man Band!  He is simple enough to play with and is designed for toddlers 2 years and older.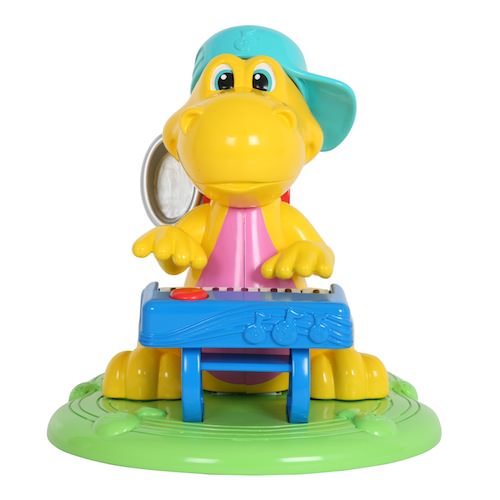 He has a few different modes: musical sounds, Rex's rapping, giggles, and silly sounds. The modes change by pressing the red button on his keyboard and the sounds come from tapping the six zones around the base. Rissa is attracted by the red button so she is constantly changing modes. When she stays on one mode for a bit it is usually the instrument sounds or Rex rapping. Those seem to be her favorites.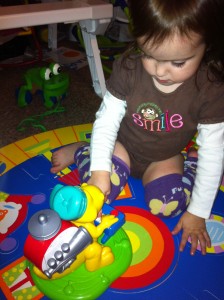 Rex needs to be on a hard, flat surface and tapped lightly around the six zones. It works best to use the removable cymbal from his drum to tap with. The zones are kind of sensitive and if it's not on a good surface or is tapped too heavily (definitely tap lightly!) you might hear one sound being triggered more often than others. Rissa tends to tap harder than needed, but has fun seeing what she can make it say/do. The only issue I have is the cymbal is easy to lose.
This toy is pretty durable
otherwise – Rissa has knocked him to the floor numerous times but he's still rockin' out.
If you cannot get Rex to make more than one sound very easily at all, try another surface before contacting the company. They are responsive should you have any difficulties. I've read fantastic examples of quality customer service on their Facebook page plus had my own experience.
The first Rex we received seemed to be malfunctioning. We tried three different surfaces and couldn't seem to get any variety of sound. He kept saying his name over and over! Occasionally he'd randomly make another sound making us think we figured it out, but then he went back to just one sound per mode. I let them know, was reassured that it sounded like something was wrong, and was sent a new one. I tell you this because technology isn't perfect – there are going to be toys that don't work properly once they are home, but a quality company will help you out!
The Rap n Tap One Man Band is from the TollyTots line of toys!
TollyTots offers a great selection of toys for toddlers and preschoolers that are unique, spark imaginative play, and use interactive technology. They have partnered with a lot of great brands to license toys. As much as I love toys and baby gear, I'll be honest… I get confused sometimes about who's really behind a particular product! When I first was introduced to Tollytots I was thinking I have never heard of them, they must be new. Turns out that I've seen some of their toys in the stores before – I just didn't realize it was theirs because I focused on the licensed brand (such as Baby Genius, Disney and Fisher Price).
Connect with TollyTots on Facebook and Twitter @tollytots to stay up-to-date on the latest preschool and toddler toys!
*The Rap & Tap One Man Band is available at Toys R Us and Amazon!
_____
Disclosure: We received this toy for review purposes.
Subscribe
Get weekly sanity saving parenting tips, recipes, and kids activities.