Kiki's Fashions Maternity Clothing Review
I'm not sure when or why it was decided that pregnant women should be punished with ugly maternity clothes. I lucked out and found some cute stuff but also came across a lot of unappealing clothes too. The only thing was, my clothes cost me a few hundred dollars. It was summer and I had to dress up a bit for work. I even bought most of my stuff on sale. If only I'd known about the cheap maternity clothes at Kiki's Fashions!
Since I'm not currently pregnant, my sister-in-law got a chance to help me out with a review! I know we have some pregnant mamas reading, so I thought this would be a great review and giveaway to share.
They have a great selection of tops as well as maternity dresses. Personally, I'm not much of a dress wearer (yet I love to dress my daughter in hers!) but I did like wearing a few last summer while I was pregnant! Maybe I'll wear a few this summer too. We'll see…
Dresses, trendy and casual tops, bottoms, clearance, oh my! So much I'd love to get to show off my next baby belly… but I asked J to pick out a top she'd like to have.
My sister-in-law picked out a green maternity top to try.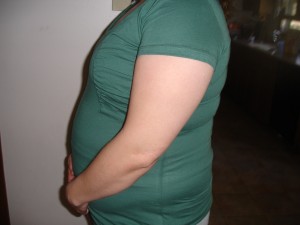 She's shier than I, so I agreed not to include her face.
She tried it on (and I had to capture belly!) and liked how comfy it was. She said it was soft and roomy. She's not due until the end of September, so she's got room to grow. It's also light and breathable – great for summer! J really liked it and appreciated that I helped her get something new. (This is baby number 3 so she wasn't planning on buying much new maternity stuff.)  She did tell me I can use it when I get pregnant again.
Giveaway over
____
** FTC Disclosure: I received the product(s) mentioned above free of charge by the company or PR representative in order to conduct an honest review. I was not compensated in any other way for this post. The thoughts, experiences, and opinions included are entirely my own and may differ from that of others. I am not liable for any issues you may incur from use of said product(s). Images used are owned by me or provided with the company's permission unless otherwise sourced. See full disclosure information. If you have any questions you can contact me or leave a comment.
Subscribe
Get weekly sanity saving parenting tips, recipes, and kids activities.