Just Dance 4 the Holidays #CleverJD4 #spon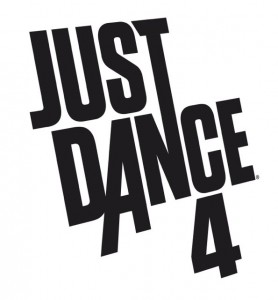 Thank you to Ubisoft for sponsoring this post. Please click here to learn more about Ubisoft. I was selected for this opportunity as a member of Clever Girls Collective. #UbiChamps
One of my biggest weaknesses during the holidays is the sweets. There are SO MANY yummy desserts and candies that get made this time of year and brought out to all our holiday gatherings. From Thanksgiving to Christmas and into New Year's… I'm overindulging in sugar. I've given up trying to limit myself too much because then temptation gets to be too much. So, I give myself permission to sample a little of this and a little of that… and try to only indulge in the treats I don't (or can't) get any other time of the year.
And I always vow to do some exercising to balance it out. The only problem is the weather makes it harder for me to burn off the extra calories. See, most of my exercising is done by walking, but winter in Wisconsin is not a fun time to hit the trails. We don't have a gym membership since that usually turned into a waste of money (read: we would stop going after the first month). So…. I need to find ways to get up and moving at home.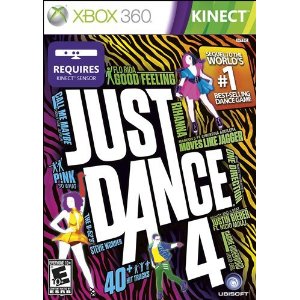 With our Xbox Kinect I'm finding more ways to get me and my family moving while playing games. When it is fun it doesn't feel like work. In fact, I look forward to it instead of dreading it! Just Dance 4 is one of the most popular dance game brands and I think it's because it's pretty easy to jump in and play. Plus, it's a great party game! While you have the family over for the holidays, put Just Dance 4 on to help everyone wake up from the turkey. It's fun to put your skills to the test and justify that second slice of pumpkin pie.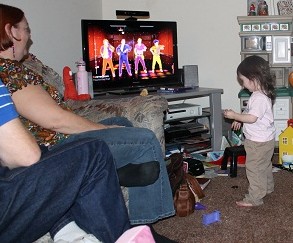 Recently we had some friends over for a dinner and movie night. Everyone took turns showing off their moves. We had a couple rounds with two players each, but our small living room makes it hard to have more than that at once. (You can have up to 4 people dancing in Just Dance 4 if you have the space.)  The navigation menu was a tad challenging with the Kinect sensor, but now you can use your controller to help you select songs. (Otherwise if you pay attention to the shadow of your virtual hand, that seemed to do the trick.)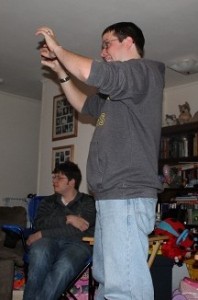 There's a pretty wide selection of songs with something to please just about everyone. The moves aren't overly complicated and the system is somewhat lenient in the scoring allowing everyone to concentrate more on having fun and less on perfecting their ability to mirror their avatar. I think the most hilarious dance set is for The Final Countdown because the avatars are wrestlers and the moves are like an elaborate set up wrestling match complete with one person rolling on the floor with the other jumping over them. (I do not recommend actually jumping over the other player though!)
One  of the coolest parts is how it automatically takes video footage of you shakin' your groove thing. Afterwards you can generate a video which tends to make you look better than you are or completely ridiculous. We couldn't figure out a way to share the videos to YouTube though (I really wanted to embed one in this post!), which would have been LOADS of fun. Still, saving them and threatening to leak them could net you an extra present or two under the tree from your less tech savvy family members.
Are you ready to Just Dance 4 the holidays? How do you like to burn off a huge holiday meal?
Just Dance 4 is available for the Kinect, PS3 Move, Wii, and WiiU! Order it on Amazon and shake up your holiday.
_____
Disclosure: We received a copy of this video game to review. Dancing skill nor rhythm are required but they greatly help!
Subscribe
Get weekly sanity saving parenting tips, recipes, and kids activities.