It's Hard to Eat Only One Cookie by Kukees
Oh the holidays, the perfect excuse to indulge in tasty treats. Or at least, I use it as an excuse. I'm a big cookie lover so I was pretty excited about receiving a dozen gourmet goodies from Kukees to taste test. Despite having gestational diabetes, I can't stay completely away from desserts. I just know that I must eat them later in the day when my body processes insulin better.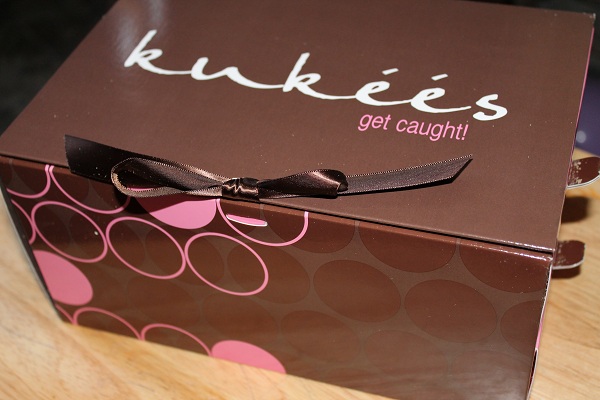 Anyway, it's probably good that I had to restrict myself somewhat or my family and friends would not have been able to help sample these babies. They are seriously that good. They are made fresh to order without preservatives or hydrogenated oils. The ingredient list are all things I can pronounce! Score for good ingredients. And they even have 3 grams of fiber which is pretty awesome. So they are sorta healthy, right?
I had a hard time deciding what to try since they have gourmet flavors such as double chocolate chip, white chocolate macadamia, dark chocolate cherry, peanut butter banana and more. Seriously, too many of my favorite flavor combos on that list. I think I gained 5 lbs just looking at their website. I ended up deciding to try out their special holiday flavors which are ONLY available November 1st through December 31st. The holiday flavors are Pumpkin White Chocolate, Gingerbread Chocolate, Turtle Kukee, and Cranberry Orange Zest with White Chocolate Chips.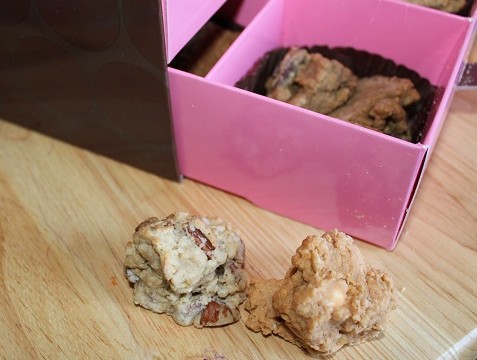 Mmm, yum.
I received a dozen holiday Biti Bites within a couple days of them being baked. They come in a pink and brown box that is great for gifting them in. Just be careful because the drawers slide open easily. We had an incident where a drawer fell out, jumbling up the Kukees. There wasn't anything labeling which were which, but I did my best to try each kind. My favorite holiday flavor was Pumpkin White Chocolate. Gingerbread Chocolate was a close second. (Hey, I usually had to eat a second one each time…)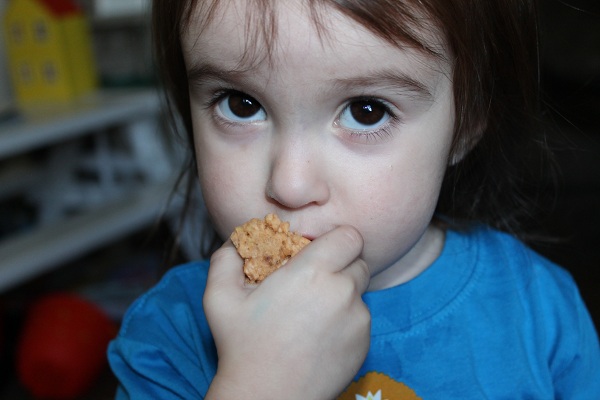 Rissa liked them too as did my hubby and our friends who were fortunate enough to visit before the last half were devoured. If you have a cookie lover on your holiday list, these would be a great gift or a way to treat your coworkers. Just don't offer them to anyone with severe nut allergies or issues consuming gluten or dairy. Other than that – I dare you to eat just one!
_____
Disclosure: We received a gift box to sample. They did not last long in our house, so yeah, we really do like 'em!
Subscribe
Get weekly sanity saving parenting tips, recipes, and kids activities.
Written by
darcy
Darcy lives outside of Milwaukee, Wisconsin with her husband, their two kids under 7 years old, two cats, and a rescue dog. She loves to share kids crafts, simple recipes, and parenting tips to help other moms. She's passionate about education (which is why she is a PTO board member and Box Tops Coordinator) and all things babies. Darcy loves purple, geek culture, and making an ordinary life feel extraordinary. She and her family enjoy exploring Wisconsin and planning local adventures. Author of Breastfeeding 101: Beauty in Breastfeeding, available on Amazon. Her writing has also been featured on Babble, CafeMom, and Mom.me.
View all posts by: Darcy Zalewski