As much as I want to get more active this year, get healthier and lose weight, I know I'll stick with it better if I ease into it. I know that sounds counter intuitive, but unless someone is keeping me on track I'll get overwhelmed trying to make lots of changes all at once. I'm also not technically cleared for intensive exercise yet since my 6 week post partum check up isn't until next week.
And, well, when I started adding in more physical activity I could tell it was affecting my body so I had to slow it back down a bit. But that's okay. I'm not using if as an excuse to give up. I WILL make the changes I can and continue to improve myself.
Last week I added in a couple nights of shaking my groove thang with Dance Central 3. They weren't intense workouts, but it was the most moving I've done since giving birth about a month ago. I've still been eating treats without limitations but made sure to buy fresh fruit and other healthy items when we went grocery shopping.
This week I am going to be tracking my steps with my new Striiv pedometer, dance at least 3 nights, and add in a few other quick workouts like pushups.
The weekly weigh in:
2013 starting weight: 224lbs
This week: 228lbs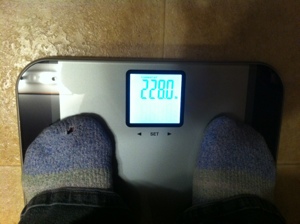 Looks like my weight is still fluctuating after birth. Though I'm not entirely trusting this new scale right now. When I first stepped on it last night it said 232! I knew that wasn't right. Then I let it re-calibrate and it gave me 228. *sigh* BUT! I'm fitting into my pre-pregnancy jeans so that's something…including the pair I couldn't even zip up the day after I gave birth.
How are you doing so far?
Subscribe
Get weekly sanity saving parenting tips, recipes, and kids activities.