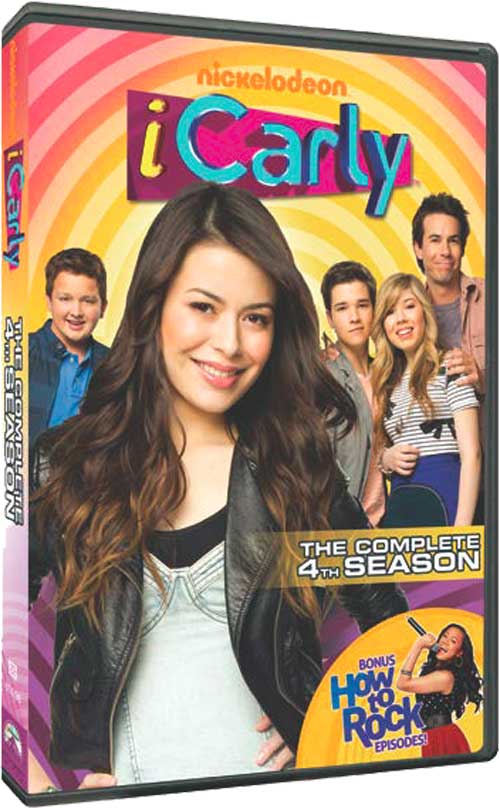 iCarly: The Complete 4th Season
Release Date: July 10, 2012
Hold your sauce – Freddie and Sam are officially together! You won't want to miss all the comedic ups-and-downs of this crazy relationship. Also this season, Carly starts dating a super smart guy, Nora returns in a 2-part episode, the crew gets a visit from a VIP, and lots more to make you LOL!
iCarly is an amusing sitcom focused on Carly Shay, a teen girl who creates her own webshow "iCarly" with her best friends Sam Puckett and Freddie Benson. iCarly (both as a sitcom and the shows webshow) is such a clever idea that appeals to the tween/teen digital generations that are learning more and more about interacting with media.
Here's a break down of Season 4's Episodes!
iDate Sam & Freddie
iLost My Mind
iCan't Take It
iLove You
iQ
iMeet The First Lady
iStill Psycho (Two-Part Episode)
iToe Fat Cakes
iBalls
iBloop 2: Electric Bloopaloo
Bonus Feature – How to Rock Videos
How to Rock Braces and Glasses
How to Rock a Lunch Table
How to Rock a Secret Agent
How to Rock a Music Video
How to Rock a Messy Bet
Of all the teen shows that are out there for our tweens/teens to watch, this one is really cute. It has actual comedy without the use of vulgarity, although it does use a bit of teen humor. Season 4 begins with Sam and Freddie finally together and silliness ensues.
What we all thought was really amusing was iBloop 2, where they show all the bloopers and interviews with the cast. The tweens and teens in my house just laughed and laughed. It has a balance in the show that appeals to both boys and girls and I really thought they did a great job with Season 4. Of course as a parent of a teen I've watched iCarly since its opening in 2007 when my teen just turned 10. I think he secretly had a crush on iCarly for a long time. Ssh! I didn't say that!
A must grab DVD, especially if you have fans of iCarly. It's funny, delightfully upbeat and really shows a heartfelt picture into teenage romance, without all the adult things from other teen shows. Wonderful acting for a teen sitcom and looking forward to Season 5 on DVD!
Thank you to Manda for guest reviewing this DVD set for us! You can find Manda blogging about Reviews, Giveaways, Stories, Recipes, and Motherhood
at inRandom.com.
______
Disclosure: DVD set received for review. Amazon affiliate link included in this post.
Subscribe
Get weekly sanity saving parenting tips, recipes, and kids activities.