I Took My Workout to the Next Level
Last week I had my 6 week post partum checkup and everything was A-OK so I am clear for a more intense workout. While I might be able to do it, there's question about if I'm actually capable of doing it.
Last week I set out some pretty clear goals that I felt really good about, but I ended up deviating from them. But…I know it was for the best because it made my body ~hurt so good~ (name that tune!).
Seriously. I am feeling sore in muscles I forgot I had.
30 minutes of Dance Central 3 at least 3 days a week.
Complete the Nike+ Kinect Training assessment (waiting for it to arrive!).
10 pushups 3 days this week.
Hit 4,000 steps in one day.
But what I really did was:
Monday: 30 minutes of Dance Central 3 (I beat story mode on easy, by the way. Yay!)
Wednesday: Random challenges on my Striiv Smart Pedometer to motivate me to get more steps in and the assessment in Nike+ Kinect Training for getting lean.
Thursday: 25 minutes of cardio via Nike+ Kinect Training.
Sunday: 25 minutes of strength training via Nike+ Kinect Training.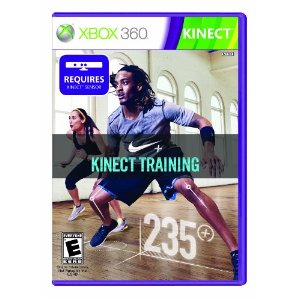 Oh. My. Gawd. Nike+ is kicking my butt. I told my virtual trainer I would commit to 4 times a week, but ended up skipping out on Saturday. Thankfully Brian has joined me on Nike so we committed to working out on the same days. (If I hadn't bought it I just might have thrown it out the window for making me work so hard.)
But wow, I'm very clearly out if shape. Besides needing to wear not one but TWO bras to keep the girls in place, I was shocked at how my belly flapped around when I jumped and hopped. And why oh why can't I barely jump off the ground anymore?
Our living room is small and we have just about enough space for the training. Overall I like that it is more customized than any other fitness "game" I've "played," but I wish it had an ultra beginner level. It won't accept modified pushups (sorry but I just can't do them anymore unless I'm on my knees…it's a sad realization for me) unless I go into tracking off mode. It also foolishly tries to make me do a variety of hopping on one foot (side to side, back and forth, in a square) even though I struggle to do it in place.
What's happened to me?
Oh and then there's the plank it wouldn't track me doing until I was laying on my stomach…or was it just hanging that low? I am not quite sure anymore.
Next week I plan to knock out all four scheduled days even if I struggle through my workout. If I do anything extra, great, but that's my focus right now. Oh and starting January 28th, I'm participating in a 30 day water challenge so I can work on making 64 ounces per day a habit again.
The good news is I haven't gained any weight! I'm just fluctuating around 224-225 pounds right now…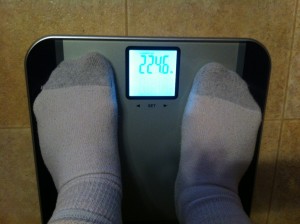 What do you do to step up your workout?
Subscribe
Get weekly sanity saving parenting tips, recipes, and kids activities.