How Ziploc Saves You Money When Buying in Bulk
While bigger is not always better, we often save money when buying items in bulk. When shopping at club stores like Costco or Sam's Club, you need to pay attention to unit prices. Just because it's a bulk item doesn't mean it is cheaper. Some of the things we frequently buy in bulk to save money are toilet paper, paper towels, granola bars, chicken breasts, and ground beef.
Have you noticed that big packs of chicken and beef tend to be cheaper? Even at the regular grocery store, I notice a price drop when I look at the 3lb+ packs. I suppose the theory is you are paying for the convenience of smaller portions as well as the additional packaging. I used to find splitting meat up to be a pain, but it's not so bad anymore.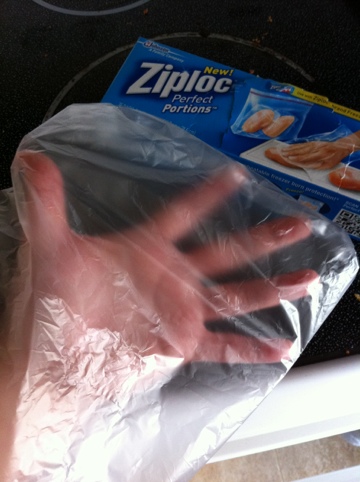 Before I received Ziploc Perfect Portions bags, I used to turn Ziploc sandwich baggies inside out to act as a glove while dividing out bulk meat portions. I love that now I can use the Perfect Portions bag like a glove and keep the portion in there! This way I can store more chicken breasts inside ONE Ziploc freezer bag rather than only putting two in each. They are hard to get apart once frozen which is why splitting them up is important. I also like the new Ziploc Freezer Bags because I can hear it seal up better and know our meat wil be protected while in the deep freezer.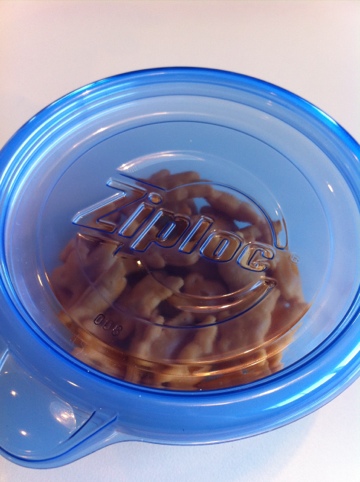 I also received their small containers that close up tight with a press in the middle of the lid. These are great for packing snacks in the diaper bag. I also like these for splitting up big snack bags into reasonable portions. No need to buy 100 calorie packs when I can do it myself! These also work great to make individual pudding cups when I make pudding at home. Much cheaper than buying the snack packs!
What do you buy in bulk?
Subscribe
Get weekly sanity saving parenting tips, recipes, and kids activities.
Written by
darcy
Darcy lives outside of Milwaukee, Wisconsin with her husband, their two kids under 7 years old, two cats, and a rescue dog. She loves to share kids crafts, simple recipes, and parenting tips to help other moms. She's passionate about education (which is why she is a PTO board member and Box Tops Coordinator) and all things babies. Darcy loves purple, geek culture, and making an ordinary life feel extraordinary. She and her family enjoy exploring Wisconsin and planning local adventures. Author of Breastfeeding 101: Beauty in Breastfeeding, available on Amazon. Her writing has also been featured on Babble, CafeMom, and Mom.me.
View all posts by: Darcy Zalewski