Holiday Gift Ideas: Video Game Review | Motion Explosion for Kinect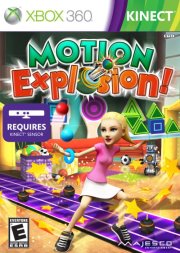 A family that plays together stays together and a great way to play together is with Motion Explosion for the Kinect. Now, I wouldn't recommend this game for hardcore gamers, but for kids and families that game casually and more for fun than for competition, this is a great option.
The mini-games featured really show what the Kinect is capable of and gives you an idea of its vast potential. With lots of limb flailing, you'll want to make sure you have adequate space to play. There are single player options, but it's the most fun when you have 2-4 people playing against each other. You take turns, so no one should get whacked in the face.
The games are short and I wouldn't use Motion Explosion to replace any workouts, but it's a great party ice breaker and a way to get the family off the couch and playing together. The games are not overly difficult, but they do steadily increase the skill level needed to score high.
When playing solo, I preferred to keep using "Motion Mix" which randomly selected 3 games for me to play each time. It was much easier than me trying to decide! You cannot select Motion Mix for party mode though, which is a bummer. A lot f the games are similar to each other and I found a lot of them were similar to Wii Fit or Wii Fit Plus games. Of course with the Kinect, there's more motion tracking to build upon. I know some people didn't regard those games very highly but I always found them to be fun.
Features of Motion Explosion include:
Use your hands, legs, elbows, knees, feet, and even your head, to play 12 different games that will challenge your reflexes, timing and coordination
Swat, dodge, jump, duck, kick, lean, juggle, pump, steer, crank, toss, balance – use your body to earn high scores and unlock new games
Easy to play, difficult to master – 10 progressively more challenging levels within each game
Gameplay ranges from simple to incredibly tricky with alternative control schemes, camera perspectives, multiple objects, faster pace and more, all designed to get you out of your comfort zone and challenge your coordination and reflexes
Invite friends and family to the ultimate Motion Explosion party right in your living room with turn-based competitive gameplay (supports 2-4 players)
Track your stats across each game and watch as all your skills improve with practice
Motion Explosion is rated E for Everyone!
Where to buy: Amazon
______
FTC Disclosure: I received the product(s) mentioned above free of charge by the company or PR representative in order to conduct an honest review. I was not compensated in any other way for this post. The thoughts, experiences, and opinions included are entirely my own and may differ from that of others. I am not liable for any issues you may incur from use of said product(s). Images used are owned by me or provided with the company's permission unless otherwise sourced. See full disclosure information. If you have any questions you can contact me or leave a comment.
Subscribe
Get weekly sanity saving parenting tips, recipes, and kids activities.