Hexbug Warriors Battle Arena Review
Do you remember BattleBots? People from around the world created robots that would fight each other in an arena through remote controls. My dad and I used to love watching them – it was actually kind of exciting to pick a favorite and root for them!
The new Hexbug Warriors remind me of the BattleBots days but on a micro scale. These little robots are modeled after bugs and use vibration to move them around. They battle with each other as they bump one another. Kids can equip them with a combination of weapons and armor as they hope to defeat their opponents on the Battle Arena.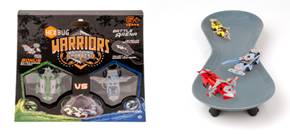 We received the Hexbug Warriors Battle Arena. The arena is easy to snap together and a good way to keep the little robots contained. They come with batteries, so they are ready to rumble straight out of the box. Press the sensor for a few seconds to turn them on and off. As they fight, watch their health light. It'll change as they take on damage.
There's not a whole lot of skill involved in winning. It seems to mostly be luck since you cannot control where the Hexbugs go or where they attack each other. Even though I knew they weren't real bugs, I still got the heebie jeebies when I picked them up and their "legs" were moving. Crazy, I know!
I think young boys and girls of grade school age will enjoy these the most. I found them to be a bit loud as you can see in the video here:
I wouldn't worry about quick battles, my battles seemed to last for several minutes at a time. Sometimes I yelled at the bugs because they appeared to be chasing each other around rather than battling!
Do you know a child who would enjoy these?
_____
Disclosure: We received the above mentioned toys for review purposes. Post contains Amazon affiliate link.
Subscribe
Get weekly sanity saving parenting tips, recipes, and kids activities.