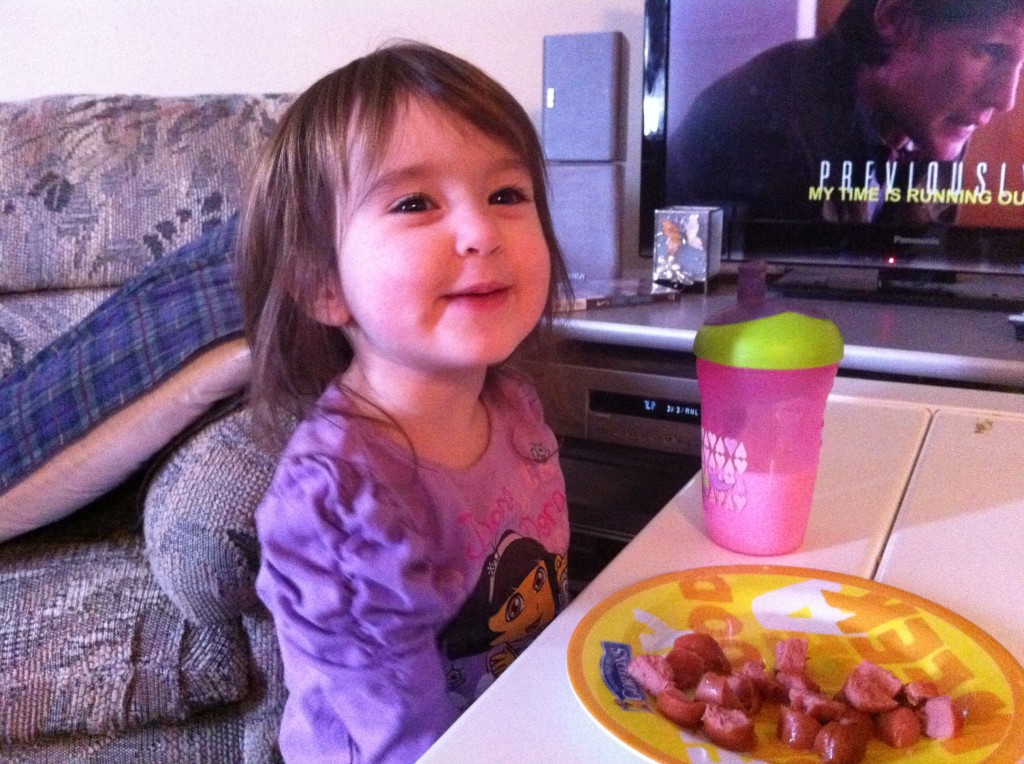 I'm often asked where my toddler gets all of her energy. Most of the time I say, "I don't know."  The truth is, I wonder about all her energy, especially on the days I'm dragging behind. While I can't take all the credit for fueling her for the day, I can say that on the days she doesn't have a proper breakfast she's not her usual self. On those days she tends to be a bit more grumpy. Probably because she is running on fumes.
Since our son arrived last December, the whole family needs a little extra oomph in the mornings so we can make it through the day. It's sort of amazing how much one little baby can impact the energy of our whole household! I think I need it the most since I spend the majority of my day trying to keep up with a very active 2 year old plus meeting the needs and demands of a newborn.
Unfortunately, most mornings are so busy that breakfast is lacking. Most days we opt for cold cereal or perhaps peanut butter toast. While these options are better than nothing, they aren't optimal. Sugar is full of carbs and sugar and lacking protein. Peanut butter toast is fine as long as I don't forget to serve a snack within an hour or two because it's not filling enough to get us to lunchtime. Our better mornings are when I make smoothies or Brian makes eggs, bacon and pancakes.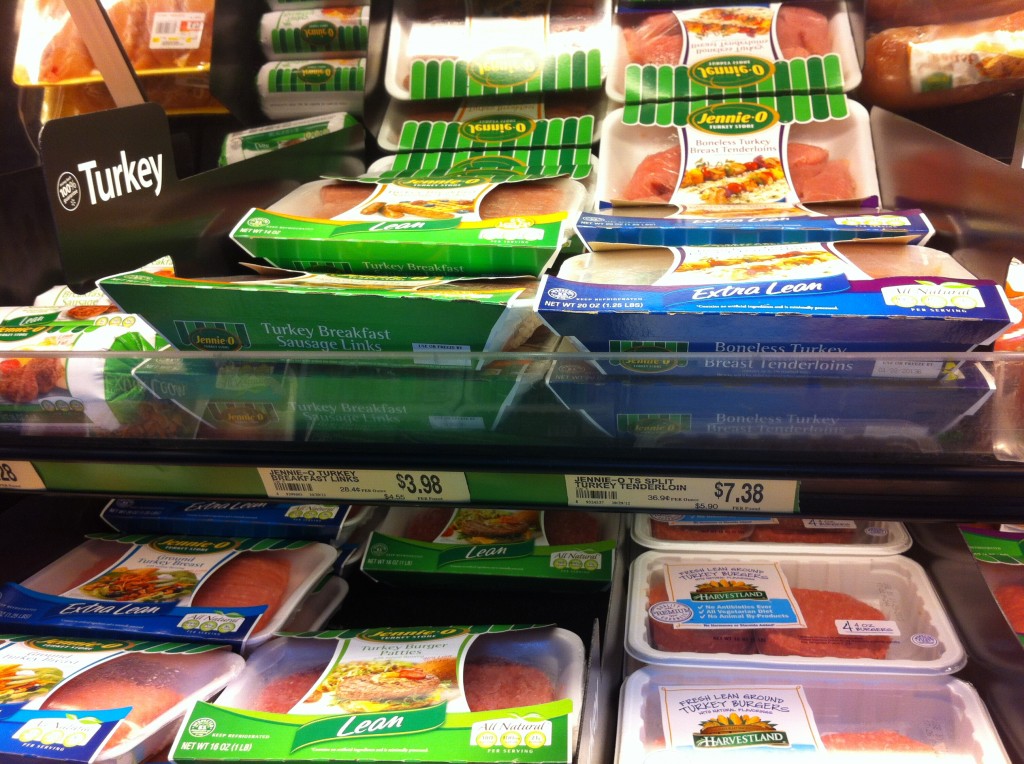 We all love bacon, but it's not the most healthy option, especially for as often as I like to eat it. In the past we've swapped ground beef for ground turkey, so why not swap out our pork? When I think of turkey products, I think of Jennie-O turkey. So, we went shopping for turkey bacon and turkey sausage. Unfortunately, I couldn't find Jennie-O turkey bacon so we bought turkey breakfast sausage to try. You can see where we found the turkey breakfast sausage in my Shopping for Healthy Breakfast Fuel Google+ Album.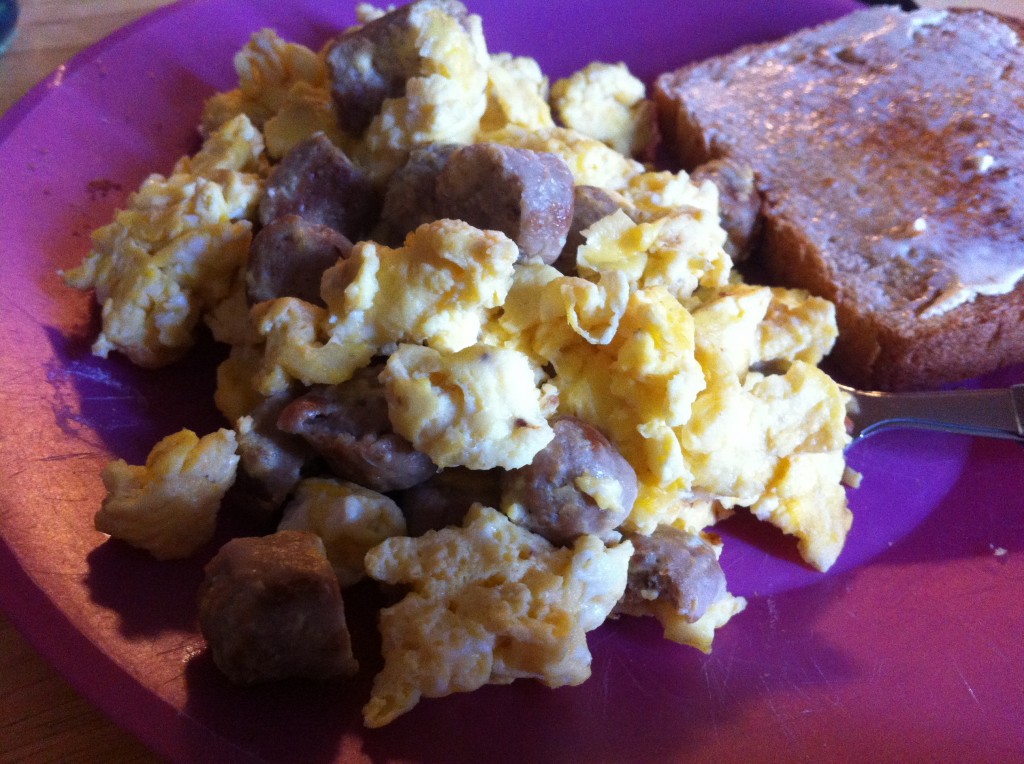 Brian made a yummy turkey sausage and egg scrambler served with toast and milk. A hot, healthy, and filling breakfast. The kind of breakfast that helps me make it through the day so I can tend to my children's needs. The kind of breakfast that keeps my toddler full of energy for learning and playing. Though, honestly, she wasn't interested in the scrambler since she is finicky about eating eggs. She was unsure about the sausage too since she prefers hot dogs. She is a bacon lover though, so we still need to try swapping that out! Still, modeling healthy eating habits is super important even if she won't eat everything she is offered.
Looking for a kid friendly meal idea that uses Jennie-O turkey bacon and sausage? Check out these delicious breakfast biscuits that Janet of Going Crazy!! Wanna Go?? and  her son made!
Now, when other moms ask me about Rissa's high energy, I'll be sure to strike up a conversation about what she had for breakfast. I know I grew up not realizing how important breakfast was. In fact, I pretty much skipped breakfast until well into adulthood. Do you know kids in your community that would benefit from learning about the importance of a healthy breakfast? Get your family and friends together, youth group, etc. and introduce them to a hearty breakfast where you swap out the fattier meats for lean turkey. You can learn more about this month's Champions for Kids Simple Service Project and ideas for how to help out in your community. Remember, even just sharing information and knowledge is important and helpful!
What does your typical breakfast look like?
__________
Disclosure: I am a member of the Collective Bias®  Social Fabric® Community. This shop has been compensated as part of a social shopper insights study for Collective Bias®  and Jennie-O #cbias #SocialFabric – All thoughts are my own.
Subscribe
Get weekly sanity saving parenting tips, recipes, and kids activities.