I know what you are thinking… it's November in Wisconsin. Why on Earth am I reviewing Havaianas Sandals at this time of year? Well, there's no snow here yet! Ha! Well, not all of you live in the same cold climate that I do and you might be looking forward to spring and summer next year all ready. Plus, flip flops are easy to slip on in the house!

Alpargatas created Havaianas in Brazil. The rubber recipe is top secret, but is able to create soles that are soft and light as well as durable. At first I wasn't so sure about the price. I kept wondering why anyone would pay nearly $40 for flip flops when you can get them for WAY cheaper elsewhere. Well, cheap flop flops aren't soft – their soles are stiff – and they wear down faster. I don't normally wear flip flops because I hate feet (including my own!) and I don't like things between my toes. They do have some closed toe shoes for fall. I did notice these were softer bottoms. I found the sizing information a bit unclear. I think I may have ordered them in the wrong size. Ooops! At least my feet seem to take up the whole sole. Doesn't seem quite right, but I don't really know.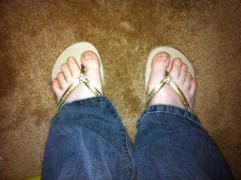 I had fun looking around their site – so many to pick from! They even have baby sandals and wedding flip flops! There's truly something for everyone. You can even make your own!
There are very nice looking. Wear them casual or with a dress or skirt. And? I wish I knew about these when I got married. I was one of those brides who did not want to have killer feet at the end of the night! I wore white & silver shoes that were comfy but my feet got really sweaty (yuck). So, while I'm not a fan of things between my toes, these flip flops weren't abrasive like cheap ones are. I didn't get to wear them out & about since I"ll be n the house a lot this time of year, but dang are these adorable! The softer soles might good for Rissa too. I'd love to try their other shoes.
______
FTC Disclosure: I received the product(s) mentioned above free of charge by the company or PR representative in order to conduct an honest review. I was not compensated in any other way for this post. The thoughts, experiences, and opinions included are entirely my own and may differ from that of others. I am not liable for any issues you may incur from use of said product(s). Images used are owned by me or provided with the company's permission unless otherwise sourced. See full disclosure information. If you have any questions you can contact me or leave a comment.
Subscribe
Get weekly sanity saving parenting tips, recipes, and kids activities.