Glittery Glam From Out of This World: The Novi Stars Una Verse Doll
Who says aliens have to be scary? Why can't they be cute and fashionable? Well, now they can be with the new Novi Stars line of fashion dolls! I've always had this sort of strange fascination with aliens, but they are usually portrayed as looking somewhat creepy to downright scary. I never would have thought my daughter would play with an alien fashion doll until she received the Novi Stars Una Verse doll.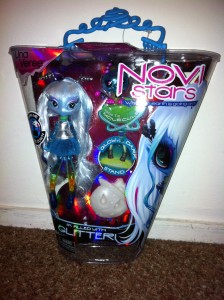 Una Verse has movable arms but not pose-able legs. She does have a doll stand (which glows in the dark) making it easier to keep her upright. The limited mobility may be an issue for some children, but there's still plenty of imaginative play that will make her fun. She's quite pretty with her silver spiral antenna, white hair with blue streaks, and planets in her eyes. (It looks like Saturn on her pupils.)  Her body is transparent and filled with water and glitter. That part sounded super fun, but I couldn't get it to move through her legs very well despite holding her upside down and shaking her. It still looks neat, I just thought we'd get a little more snow globe type action going on.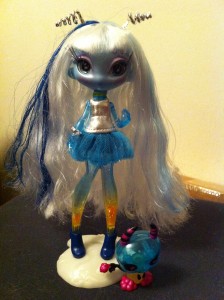 Rissa's favorite part though? Her pet. It's like a little space cat and its name is Molecule. That's been her favorite part to play with so far. This doll is most appropriate for ages 6 years old and up, so I removed her bracelet and ring (which are tiny pieces). Rissa did notice the glittery eyelashes and asked me "what happened?" These aren't just painted on like most on most dolls, so it was new to her.
I love the little details provided on the back of the box about things she likes and fun factoids about her. It offers a bit of character backstory for children to build upon in their play. I do wish it was also provided on a smaller card within the box that is easier to keep if so desired. I really wrecked this box trying to get Una out, so her bio got ripped. (You can look up some of the information on their website at NoviStars.com.)  One thing I noticed on Una Verse's bio that was super cool for my daughter (but confused me a little bit) is where it says what her friends call her.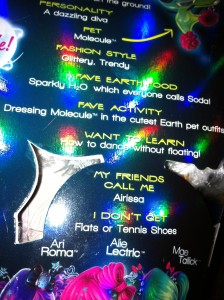 I thought her name was Una Verse, so I'd figure she'd have a nickname that's a variation of that. However, the box says her friends call her Airissa. How perfect for MY Aerissa! Spelling is slightly different, but pronounced the same. I had NO idea about this name detail before this doll arrived. Imagine my surprise when I read that!
______
Disclosure: We received this doll for review.
Subscribe
Get weekly sanity saving parenting tips, recipes, and kids activities.