Give the Gift of Blue Nile Jewelry + The Extraordinary Days of Christmas Sweepstakes!
Before I tell you about Blue Nile's awesome sweepstakes, I just have to share that I love their jewelry! When Brian was planning to propose to me, he needed a semi-sneaky way to get my engagement ring without me knowing. The first step was getting my ring size. He lucked out because around the same time my dad wanted to buy me a college ring for graduation. Brian paid attention when I got my ring finger measured and filed that info away. The next step was finding a gorgeous ring…
Mind you, this was in 2004. At that time I had never heard of Blue Nile. I'm not even sure how he knew about them to be honest, but he designed and ordered my engagement ring from them. He was able to have it delivered without me knowing (either to his work or his parents' house). 8 years later, my ring still looks fantastic and hasn't lost any of the diamonds. I love it! So, when I learned about Blue Nile's Christmas campaign, I was happy to work with them to share it with you!
Oh, but before we get into that… here's a gift idea for mom. (Ahem, for me… I really love this Infinity Love Knot Necklace!)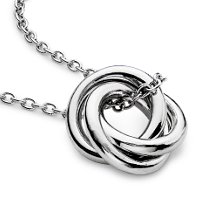 Okay, now on to what you can win!
The Extraordinary Days of Christmas!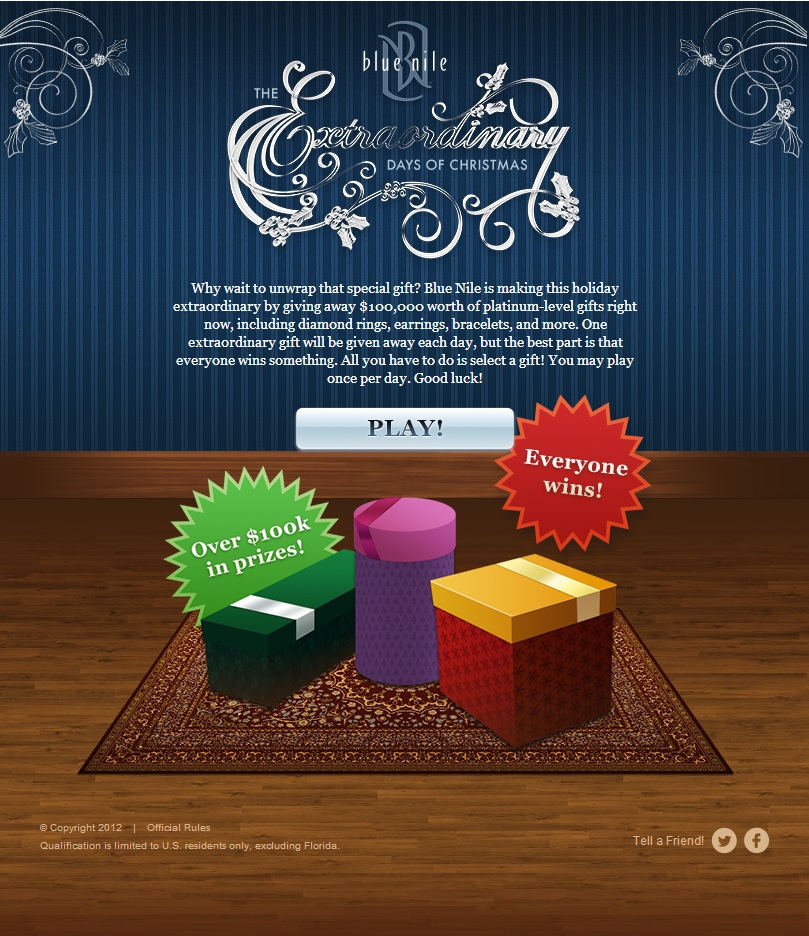 Blue Nile, the world's largest online jeweler, has a big, unique holiday campaign this season called The Extraordinary Days of Christmas. For 12 days only, (from November 26th through December 7th), fans of Blue Nile's Facebook page may select and "virtually" unwrap one of six presents in hopes of winning one of 12 extraordinary jewelry prizes from Blue Nile. One extraordinary jewelry prize will be awarded each day, and range from $3,500 to $13,500! Prizes include, but are not limited to, multiple diamond engagement rings (including one from the new Monique Lhuillier line), 2-carat diamond earrings, a sapphire and diamond ring, and a 4-carat diamond bracelet.
All told, $100,000 worth of extraordinary jewelry prizes will be awarded from November 26 – December 7. And, while there will be only one extraordinary prize per day, everyone is still guaranteed to unwrap something from Blue Nile! We believe that everyone should have a chance to select a gift. It is a game of chance. Prizes vary from percentage off discount codes to $11,000 diamond rings.
______
Disclosure: I am receiving a promotional item as a thank you for sharing the sweepstakes information with you.
Subscribe
Get weekly sanity saving parenting tips, recipes, and kids activities.