I can't wait to see Bridesmaids!  I love Kristen Wiig – hilARious~! I wish I saw it in the theaters only to have laughed my butt off earlier seeing as how it is one of the top comedies this year. At least now I can do it in my living room. Oooh, I'm looking forward to the gag reel. That's always my favorite bonus feature! Thank goodness I'll get to check it out a little early… (DVD and Blu-Ray come out on September 20th)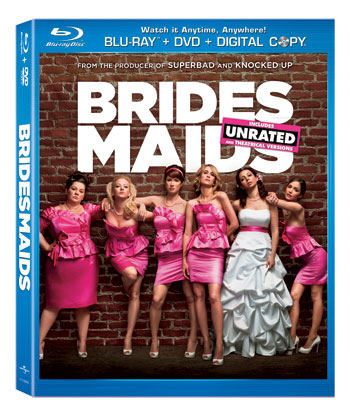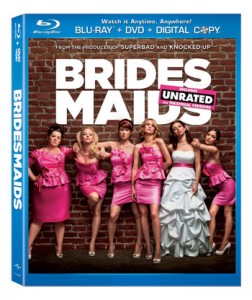 So, I'm working on my party details and inviting friends over to watch it with me on September 17th. I considered hosting a Bachelorette version 2.0 party, but I want to keep it family friendly. We're all married after all and one's about to give birth and well, I'll be sharing the party with you after… So… that means no pasta shaped like male genitalia.
We are just going to have fun. Good, clean(ish), girls night in fun! Of course this is making it harder for me to come up with cutesy themed food. I just keeping thinking of all our favorite grazing foods from parties and gatherings!
So here are some ideas I've been tossing around before I go shopping for supplies:
Games
A few rounds of Apples to Apples is a good way to get the laughs going
MASH – A 80s elementary school flashback. Let's see if we ended up in a shack with 9 kids with the kid who ate glue.
Food & Drinks
Blushing Bride Punch
Bridesmaids cupcakes
Taco dip
Salsa Queso Dip
What do you like to have on a girls night in? Are you excited about the DVD and Blu-Ray release of Bridesmaids?
_____
Disclosure: I'll be receiving the DVD in order to facilitate my review and some items to assist with hosting this party. All thoughts, ideas, and opinions are my own. It's totally a fun idea!
Subscribe
Get weekly sanity saving parenting tips, recipes, and kids activities.