Get Your Rock On Anywhere With This Portable Bluetooth Speaker
Are you usually the one with the coolest playlist where ever you go? Do people like to ask you about what tunes to play when everyone gets together for a backyard BBQ? It's kind of nice being the go-to person for music but it sucks to give up your phone – even for the sake of rock 'n roll. And depending on what kind of case you have on your phone, your docking abilities may be limited without a special adapter (like with the
LifeProof case
I have).
This speaker was incredibly easy to set up and get working. So easy, in fact, that my grandma could probably figure it out. You do need to charge it before using it, so we had to plug the USB cable into the computer after taking it out of the box. You can use it while it is charging, but it only charges via USB. Once that puppy is charged up you can get about 5 hours of continuous use out of it before the battery is dead again.
To pump music through it, just enable Bluetooth on your device and then push the Bluetooth button on the speaker. My device located the speaker and connected to it. Once that was done, everything I played on my device, played though the speaker – even when in a different room. I used my iPhone 4, but any Bluetooth enabled device should work fine.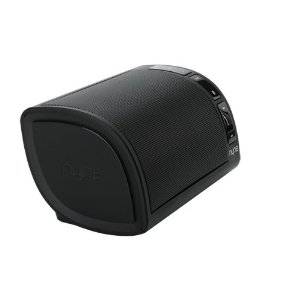 The sound quality of the speaker was good, especially for something this compact. Brian agrees that this is really handy for use in the kitchen or bathroom. Just place it on a shelf (or picnic table if the party is outside), wirelessly connect your device, and you have a party. Also great for taking along while tackling long overdue projects in the basement… or if I ever turn the treadmill on again…
If you are like me and hate ear buds with a passion, but like to listen to music while biking or out walking (or jogging) with the stroller then you can use the mount to attach it to the bar. Did you know you really aren't supposed to wear headphones or ear buds when you are out exercising? It's a safety thing – you might not hear a car or someone coming up on you. Of course, you don't want to annoy others by blasting it though. And if your kiddo likes music, it will keep them more content in the stroller too!
So if you want an easy way to get the party started where ever you are without losing the ability to use your phone (no docking necessary!) then you'll want to check out this
portable bluetooth speaker
.
______
Disclosure: We received a speaker to test and review. No other compensation was provided. Now go forth and rock!
Subscribe
Get weekly sanity saving parenting tips, recipes, and kids activities.