Coming up this weekend is the 27th annual Strawberry Festival June 23-24, in the historic downtown district of Cedarburg, Wisconsin. It takes place every year on the fourth weekend of June and is a favorite destination for locals and non-residents alike!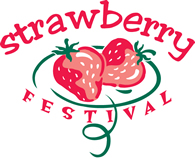 This festival is one of the busiest festivals held in Cedarburg (which is about 30 minutes north of Milwaukee). Last year there were over 100,000 attendees throughout the weekend! It may seem hard to believe, but once you see how filled the side streets get with parked cars with license plates from Wisconsin, Illinois and others… you know it is the place to be!
There is no admission, so it is completely FREE to attend and family-friendly. We enjoy just walking up and down to browse the various vendors. The Strawberry Festival celebrates strawberries and artists. It is a great place to find and purchase unique, hand-crafted items. There is also everything strawberry available to taste! Strawberry shortcake is my favorite but you'll also find strawberry pie, wine, crepes, jam, slush, cheesecake, and even…. wait for it… strawberry brats!
There is a food court with non-strawberry items as well as live music. Sunday morning there is a strawberry pancake breakfast from 8am-11am. In Cedar Creek Park, there are some fun things for kids like pony rides, a petting zoo and bounce houses.
We usually go on Saturday. Have you ever gone before? What's your favorite part?
______
Photo credit: Festival logo is owned by Festivals of Cedarburg
Subscribe
Get weekly sanity saving parenting tips, recipes, and kids activities.