Flair by RearZ Cloth Diaper Review & Giveaway (Closed)
RearZ is a Canadian based company that offers a full range of cloth diaper sizes – from baby to adult! They are especially committed to reducing harmful waste associated with the use of disposable diapers. They use organic materials for their diapers and ensure their fabric comes from fair trade producers as well. RearZ is dedicated to socially and environmentally friendly business practices. One way they give back is by giving away diapers!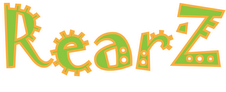 Since I've used prefolds and like to find ways to expand our stash economically, I was intrigued by their Flair reusable diaper. It's a prefold with snaps! No pins. No snappis.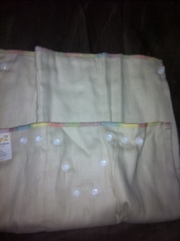 Flair Features:
High end Diaper Service Quality (DSQ) cotton
100% unbleached cotton
3 sizes (S, M, L)
4x6x4 layers (S); 4x8x4 layers (M & L)
No elastic
Exceeds organic standards and meets stringent European Oeko-tex standards
Made in Pakistan, finished in Canada
Requires a cover
Has snaps
Function:
It works for day use. Rissa wets too much to be in a prefold for naps – let alone overnight. It seemed as absorbent as our other prefolds.
Laundry:
Washes well and dries fast. I prefer to put it in the dryer so it doesn't get all stiff. Another option is to line dry most of the way and finish it in the dryer to fluff it up.
User Friendly:
It's not as easy to use as I thought it would be. at first I was excited about a prefold with snaps! What a brillant way to keep it on. There weren't any instructions or tutorials on the use of the Flair. After laundering it, I was puzzled by how I was supposed to fold it. The V pattern for the snaps made me uncertain as well since they didn't seem to be any for rise adjustment. While I am able to make this diaper work, I would not leave it with my husband!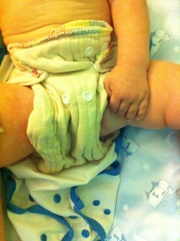 Fit:
It seemed a bit tight around her waist from my trifold but baggy through the crotch. Trying to keep the snaps lined up made it difficult to have the material snug around her thighs. She's on the lower end of the size range (14-26 lbs for Medium). Operator error? Possibly! It's a neat concept, but I think snaps work better with contours rather than prefolds. It's still usable and it's different. Not my favorite option.
Final thoughts: While the Flair is not my favorite, I would like to try one of the other diapers offered by RearZ. I like their mission and dedication to reducing waste too!
You'll want to make sure and check out what Mariah and April received – we all got something different!
Giveaway!
To enter, fill out the Rafflecopter form below. I will remove duplicate entries if they occur.



______
FTC Disclosure: I received the product(s) mentioned above free of charge by the company or PR representative in order to conduct an honest review. I was not compensated in any other way for this post. The thoughts, experiences, and opinions included are entirely my own and may differ from that of others. I am not liable for any issues you may incur from use of said product(s). Images used are owned by me or provided with the company's permission unless otherwise sourced. See full disclosure information. If you have any questions you can contact me or leave a comment.
Subscribe
Get weekly sanity saving parenting tips, recipes, and kids activities.