Finding Nemo is Fin-tastic on Blu-ray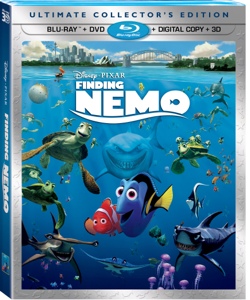 One of the most beautifully created Disney Pixar movies, in my opinion, is Finding Nemo. I thought it was gorgeous the first time I saw it, found it visually stunning when I screened it in 3D and still love it on bluray. Some movies I can't really tell how bluray affects the aesthetic quality, but Finding Nemo looks so crisp and sharp on it.
It was Rissa's first time seeing it and she enjoyed watching it too. To be honest, I was impressed that she figured out the difference between Marlin ("daddy fish") and Nemo pretty quickly. And she found Dory to be silly. (I love Dory. She's one of my favorites because of the comic relief.)
You know by now my favorite part about adding bluray releases to our movie library, right?
Bonus features!
And Finding Nemo doesn't disappoint with one whole disc dedicated to extras. For laughs, be sure to check out Dory's Mutterings under Outtakes. For learning, explore the coral reef and enjoy the character cameos added to it.
I really enjoyed the Making Of feature, though it is a tad long. The amount of research and fine tuning that goes into a movie like this is simply amazing. Not to mention how complex animating water in a believable way is…
Did you know it took over 3 years to complete Finding Nemo? That's a huge project. But how cool is it that everyone working on it was required to become certified scuba divers? They all had a better understanding of their work due to experiencing the ocean up close. As awesome as I think it was for them to do that, I wouldn't have been able to remain on the project if it was me since I can't swim!
And there was a different opening scene…
There are so many features to check out and enjoy so you'll definitely want to add Finding Nemo on bluray/dvd combo to your movie collection!
________
Disclosure: I received a copy of this movie. All thoughts are my own. Amazon affiliate links are in this post.
Subscribe
Get weekly sanity saving parenting tips, recipes, and kids activities.