Find the Perfect Toy to Gift From PlaySkool #thisskoolrocks
I tend to think I'm a pretty good judge of what my daughter likes and doesn't like, but occasionally she surprises me. Lately she has become more interested in pretend play and toys that fit well into this. While I may have a general idea of what to shop for, I know all our family members aren't quite so sure. Or maybe I want a few ideas to consider.

This is where the PlaySkool toy finder tool comes in handy! They make it easy to check off a few details such as age and toy type and even if they have favorite characters.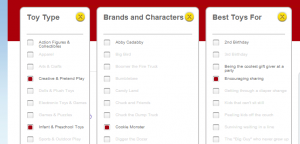 I was curious what it would suggest for Rissa and secretly hoped for the Cookie Monster Kitchen Cafe. But we already have a play kitchen so we don't really need another one.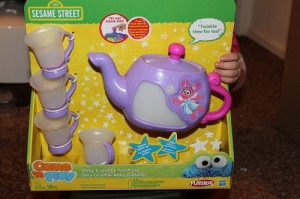 The most fitting toy suggested based on my selections was the Abby Cadabby Tea Party Set. This was absolutely perfect since my daughter has been wanting a tea set! Gramma brought one over while baby-sitting and Rissa still talks about it. Now she has her own that even works on teaching colors.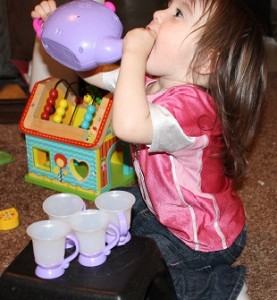 Just press the top to make Abby talk. The teapot lights up and changes colors. Once Abby announces the color of the tea it is ready to be poured. Besides the sound affects, the spout lights up making the cup glow the color of the tea.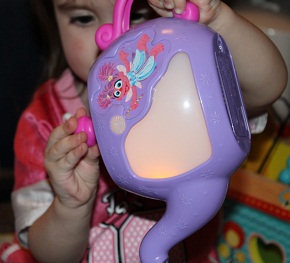 Rissa loves to pour everyone a cup!
I'm confident that any friends or family who use the PlaySkool toy finder when shopping for Rissa will get a gift that will be well received!
Giveaway!
Open to our Canadian readers only from now through December 22nd, 2012.
Try out the toy finder and leave a comment below with what it suggested for your chance to win the Abby Cadabby Tea Party Set!
_______
Disclosure: I am a Hasbro/PTPA Ambassador. We received the above mentioned toy as part of this compensated campaign. All thoughts are my own!
Subscribe
Get weekly sanity saving parenting tips, recipes, and kids activities.