Feeling Like a Cloth Diaper Flunky [Because Prompts are Fun]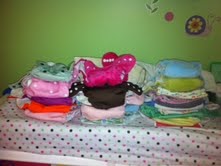 Once upon a time I loved cloth diapering. I even loved doing diaper laundry. While pregnant with Xander I looked forward to cloth diapering a newborn and packed them in my hospital bag. I've used cloth with Rissa for two years – I'm a fluff veteran! I thought. Think of all the money we'll save! Reducing trash! Keeping chemicals off their bums!
It's so easy!
Until it wasn't.
It's hard for me to admit it, but it has been overwhelming adjusting to two little ones. We only bought a few extra reusable diapers, but these two go through them fast! Little man keeps leaking and needing very frequent changes and it hasn't been easy to keep up with the laundry. In part I blame needing to go down into the basement. Right now, with these two, it's not very easy for me to get down there as often as I need to. Heck our dirty clothes are piling up at an alarming rate.
Sometimes I ask Brian to carry the baskets down for me. That is super helpful, but then he usually ends up doing the laundry for me. Then I feel bad.
That dang mom and wife guilt. And feelings of failure.
It has been easier to put the kids into disposables. I hate to say that, but it's true – no matter how much I love my fluff. It's definitely what I choose when we travel. I'm not abandoning cloth diapering though. Oh no. It's just more of a part-time thing right now to give me reprieve from so much laundry every other day.
I had the best intentions before and after Xander was born. He wore some cloth while in the hospital, but he just pees too dang much! I feel pangs of guilt, disappointment and shame every time we buy more sposies. It's not me. It doesn't align with my values, but I needed something to help my sanity. This was one of those areas that had to give a bit… for now.
I keep telling myself it is only temporary. Soon we'll return to full time cloth diapers. I mean, I didn't consider them right away with Rissa and decided to convert to cloth diapers when she was about 3-4 months old. Xander is now 3 months old. It should get better from here, right? Plus, Rissa should begin consistent potty learning soon.
The only thing that makes me feel better about it is insisting that we only buy Huggies Natural Care diapers. That and reminding myself it does NOT have to be all or nothing; it just has to be what works for us.
But, I gotta say, I miss seeing those fluffy butts.
Subscribe
Get weekly sanity saving parenting tips, recipes, and kids activities.