Family Fun at KeyLime Cove Indoor Waterpark
Our family was invited for one complimentary night stay at KeyLime Cove Indoor Waterpark in Gurnee, Illinois so we could experience it for ourselves. All thoughts and images are my own.
With indoor waterparks, the fun happens all year round. Living southeastern Wisconsin, we need options. And even in the heat of summer, indoor parks are still a great option because the temperature is controlled, you don't have to worry about rain and you don't need to worry about sunscreen or sunglasses.
A few weeks ago we stayed at KeyLime Cove in Gurnee, Illinois. If you follow me on Instagram, you probably saw me sharing a few photos during our stay. Now I sit here and wish I had MORE pictures! Even though we were visiting to review the hotel and waterpark, I was trying to put my phone away more so we could enjoy the experience together.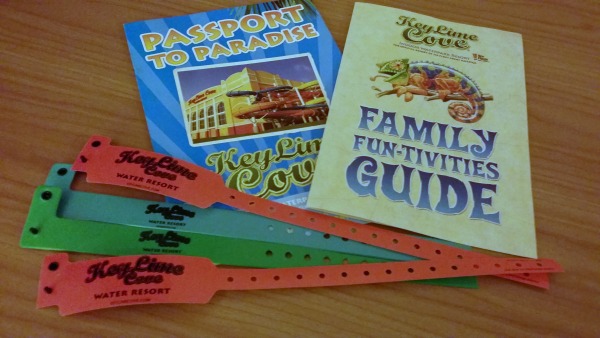 Getting away, even if it's just for one night, is something we look forward to as a family. We don't have to go far — just far enough so it's not the same as home. Actually, for short adventures we prefer locations within a couple hours of driving distance from home. While far away vacations are great, flights are expensive and these kids don't last on really long road trips yet.
KeyLime Cove is not too far for us and it's near Six Flags Great America and Gurnee Mills (hello outlet mall shopping!). They even offer special packages for amusement park goers and a shuttle. The kids are too little for us to explore that place right now though. And if you stick around, we have a special promo code you can use for staying during July 2014!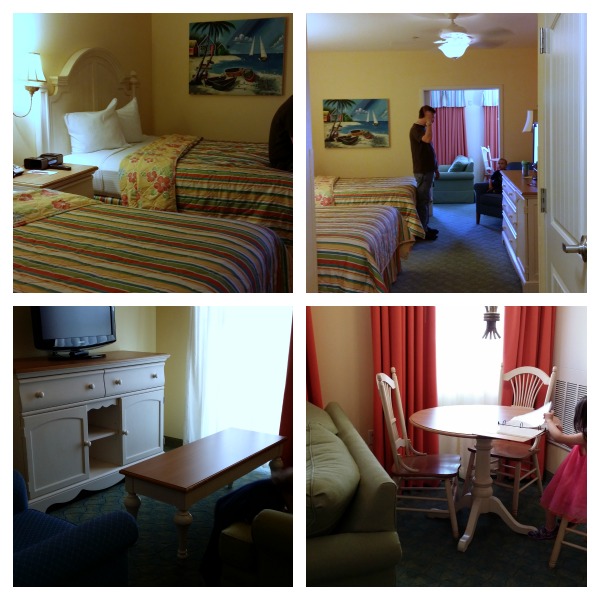 Upon arrival you enter a brightly colored world that becomes your vacation getaway. There are several options for meals and activities all under one roof so you can enjoy yourself from check in until check out without ever having to leave. We enjoyed a Mangrove one bedroom suite, which gave us enough room to stretch out and relax. We each received wristbands that would allow us to use the waterpark as we pleased. You can access the park a few hours before your check in time and all day on your check out day (and of course all of your stay in between), with lockers available to stash your stuff.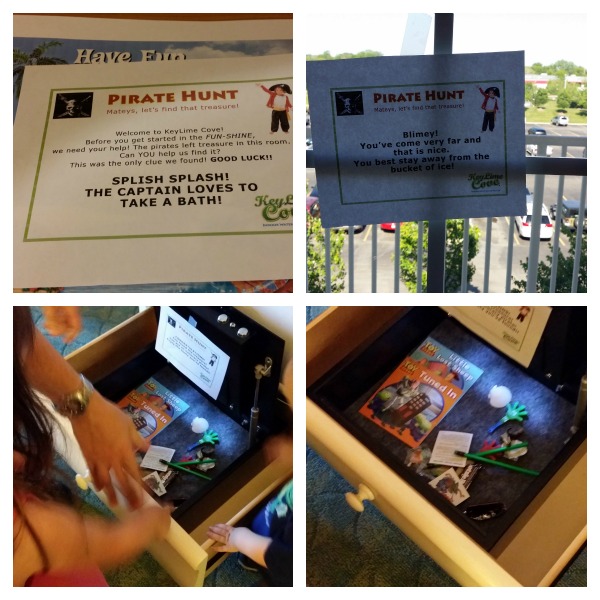 My wristband and Brian's wristband also acted as our room key. While I like the convenience (especially when wearing a swimming suit), I do wish they were made to take on and off as needed. Once you put it on the only way to take it off is to cut it or break it. I also had to have someone cut the excess band off because it was bothering me. When we first entered our room, we discovered a clue about hidden treasure. Rissa enjoyed going on a scavenger hunt! Xander was excited about the running around and treasure, though he wasn't much help in locating the clues.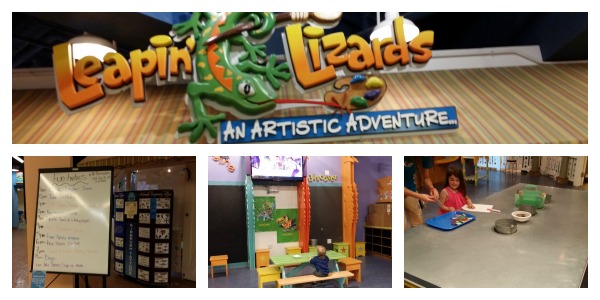 They have an area for free children's activities called Leapin' Lizards. There's a sign out front that lists the hourly activities. Rissa worked on an art project while Xander played with blocks and watched a movie. They have materials you can buy for bigger projects if you'd like as well. During our exploring we also checked out the large game room. There are a variety of games to play and prizes to be won; however, it is easy to loose track of little ones if you blink. Thankfully they'll stop to press buttons, making it possible to catch them.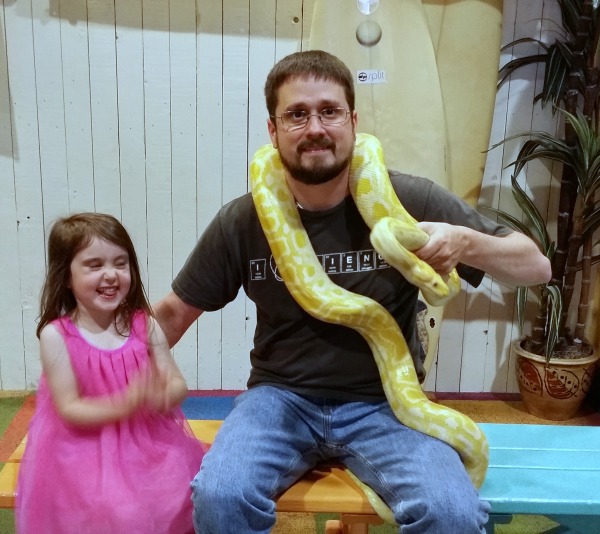 There were even a couple young ladies with a snake, a lizard, and some other creatures to look at. Xander and Rissa took turns touching the lizard and snake…though Rissa barely brushed them with her fingertips… she was interested but didn't want to get too close! I got Brian and Rissa to pose with the snake for a picture though!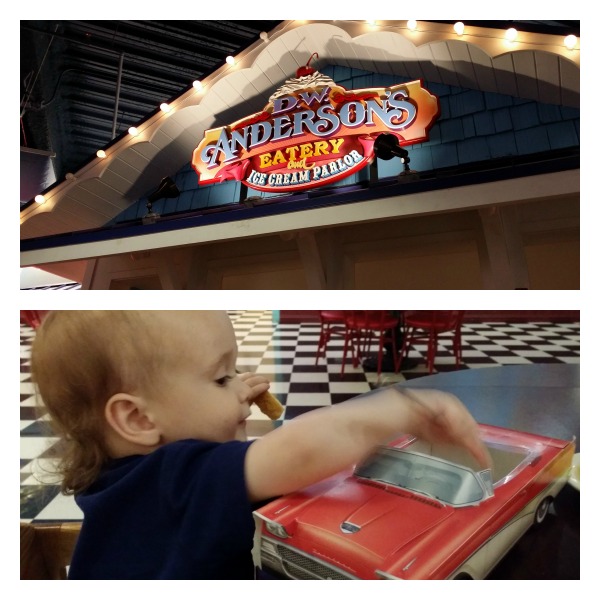 We enjoyed dinner at D.W. Anderson's, with it's 50s music and decor. The kids loved how their food came on cardboard cars (complete with cookies in the trunk). Later we ventured back there for dessert. I should have taken a picture of the ginormous deep fried oreo sundae I ordered (yes, I know…. yes, it WAS delicious!).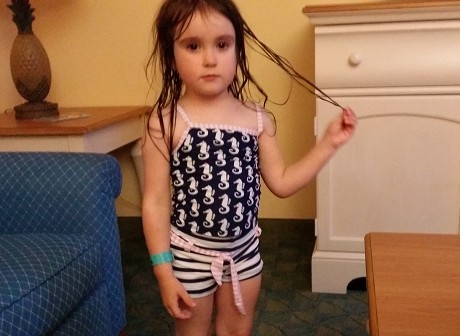 The waterpark has a lazy river, a kid's area, a wave pool, and lots of slides. We couldn't quite figure out how to get to the really big slides for Brian to try those out, but he and Rissa had a blast doing everything else. Rissa was even brave and went down a couple of the kid's slides on her own. The kid pool area is perfect for wading and does have a gate to prevent little ones from escaping (though occasionally people didn't close it properly). I borrowed a life jacket for Xander, but he ended up having more trouble with his balance with that on than without it.
Since I don't really swim, I stuck to the kiddie area with X. Him and I didn't stay super long since my suit was too big (should have eaten the deep fried oreos first!) and he couldn't make up his mind what he wanted to do. He'd want in, then up, then out, then down… so I took him back to the room while Brian and Rissa enjoyed the waterpark. I will say that I liked their kid area because it wasn't as boring as some kid pools can be. There was a pool up a level with slides coming down into the lower one. The slides were very popular with the kids so I wasn't able to comfortably send Xander down them, but Rissa had no problem.
Now it's your turn!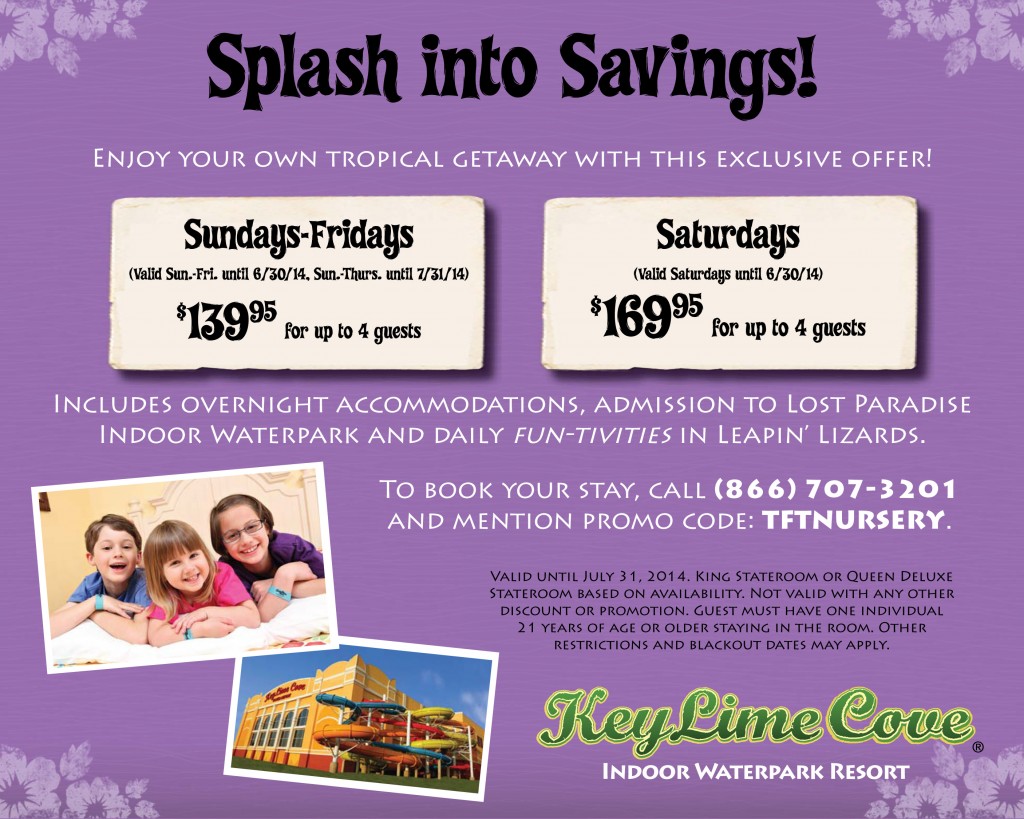 Interested in staying at KeyLime Cove Indoor Waterpark? Check out the special offer they are giving to you, my wonderful readers! Just mention TFTNursery when making your reservation. Have a splash-tastic summer!
Subscribe
Get weekly sanity saving parenting tips, recipes, and kids activities.