Encouraging My Daughter to Play Music With the iTikes Piano
I'm all about encouraging my daughter to enjoy music. Not only do I want her to listen to it and appreciate it, I'd love for her to play an instrument. By exposing her to a variety of music and instruments I hope to do just that. I don't want to push her towards any particular one which is why she has drums, a xylophone, a toy guitar, and now a piano. When she's at Gramma's house she loves to play on their piano and at my parents' house she plays with an old keyboard of mine. It seemed about time for her to get one of her own, right?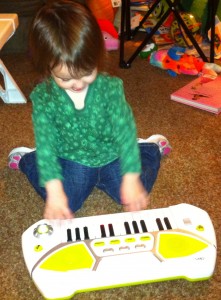 I liked the idea of the iTikes Piano because it can function like a regular piano/keyboard but the experience can also be enhanced with a free app on my iPhone (or on an iPad if you have one). It even comes with a few different sized holders. There are a few songs already programmed in the piano that will light up the keys, showing how to play them. One mode plays a bit then waits for you to press the lit up key before it continues a few more notes. Rissa likes that, but she definitely enjoys the freestyle mode. You can also adjust the pitch and tempo of the music. I find it difficult to get it back to the default, but when actually learning how to play a song it is very helpful to slow it down then gradually speed it up again.

(Video)
Just the piano on its own I find worth it to have for Rissa. The technology integration with the app is interesting, but she's much to young for it right now. There are more games to play and help teach kids how to actually play the piano. It includes games on pitch, sight reading, and learning notes and sounds. The app interacts with the piano over wifi, but still needs some work. It was not always responsive and we often had to exit the app completely in order to switch activities. Hopefully they will continue to work on fine tuning that aspect and create additional apps to work with the keyboard as well.
So overall, we like the iTikes Piano for being just a keyboard for Rissa to play with while hoping for app improvements by the time she'd get use out of the technology integration.
_____
Disclosure: We received an iTikes Piano to review; no other compensation was received.
Subscribe
Get weekly sanity saving parenting tips, recipes, and kids activities.