Lately it has been harder for me to ignore the fact that I am indeed "getting old." So many movie classics from my childhood are coming out with anniversary editions and releasing on Blu-ray lately. I love getting an updated version, but when I think about the original release date compared with my birth year it makes me go wow, that long, really? No way…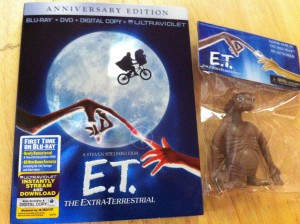 One of these movies is E.T. The Extra-Terrestrial. It came out in 1982, and was a huge success. Even 30 years later it is still one of the top movies of all time. That's fairly impressive, isn't it?
We watched E.T. the other night as a family. Rissa was a little unsure of this alien at first. As we watched it, I marveled at the animatronics of E.T. and the work that went into bringing him to life on screen. Nowadays he would have been a CGI creation!
I loved the little collectible E.T. that was sent with my review copy. It reminded me of the E.T. candy dispenser I had as a child. His neck would extend and contract…I kept him to play with well after the candy was gone. He didn't fit in so well with my Barbies and My Little Ponies!
The best part of these anniversary editions are the extra features. The older movies didn't film bonus footage in anticipation of sharing upon release, so the can be quite interesting to watch decades later! I really enjoyed  A Look Back and Evolution and Creation of E.T. features. We found it interesting to learn about how the script came about, that it was turned away from one studio before Universal said yes to Spielberg, the process of designing E.T. Centered around his eyes, and more! Some of the fun bits were seeing Steven Spielberg dressed up and directing as a woman all day on Halloween as well as the little Star Wars references included for George Lucas.
When's the last time you watched E.T.?

______
Disclosure: We received a copy of this movie for review purposes.
Subscribe
Get weekly sanity saving parenting tips, recipes, and kids activities.