Don't Lose Your FSA Funds!
Healthcare can be quite costly in the U.S. and it's important for consumers to look at their yearly medical costs. It can be difficult to find ways to save and requires looking closely at (and understanding) benefit plans, deductibles, network providers and other supplemental options. One way families choose to save on healthcare costs is by opening a Flexible Spending Account (FSA) through their employer during open enrollment.
Money taken from your paycheck is put into the FSA pre-tax which means consumers can save up to 40% on medical costs throughout the year. FSA funds can be used towards copays, prescription costs, and a variety of medical supplies and items not covered by traditional insurance. (Prenatal vitamins, for example.)
It's important to carefully evaluate what your yearly out-of-pocket medical expenses are so you can select the right contribution amount. With FSA funds, the money not spent at the end of the year is lost. If you don't use it you lose it. So if you still have funds left you want to spend that money and stock up on FSA eligible items! Most plans expire on December 31st but some employers have plans with a grace period. Be sure to check with your specific plan for the deadline.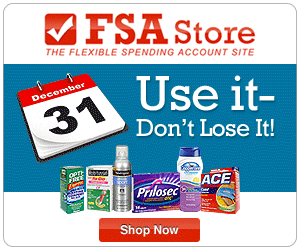 One great resource for FSA participants is FSAstore.com. FSAstore is a one-stop-shop stocked exclusively with over 4,000 FSA eligible products, a national database of providers and an online Learning Center that answers general FSA-related questions. For information on your specific health care plan offering, check with your benefits provider.
Save $5 on your purchase of $50 or more with promo code BLOG5N50!
______
Disclosure: This is a sponsored post written by me on behalf of FSAstore.com. I thought this was helpful information that many of you may benefit from.
Subscribe
Get weekly sanity saving parenting tips, recipes, and kids activities.