Donating School Supplies Bought at Walmart #bagitforward
When I was little, I used to love shopping for school supplies. Heck, even in my college days I liked getting my supplies. Great deals, useful stuff, and it all symbolized I was about to learn something new.
Yes, I dare say, it meant adventure and a new chapter in my life each time I picked up new notebooks!
While I have this weird obsession for office supplies, I'm not really in need of any at this point. Rissa is too young and I don't need much since I'm no longer working outside the home in an office. So who the heck can I get school supplies for, you ask? Well, my nephew that lives nearby is in school, I have a sister-in-law who's a teacher around here, and I know the students in Joplin could use a helping hand. Since I didn't want to get too crazy in my shopping trip, I opted to buy for my nephew and to Bag It Forward by sending my donation to Joplin. (Another blogger has organized this and I previously sent hygiene items and such out to her for people in need.)
Bag It Forward
This is a great program to help get school supplies donated to children in need. It's a sad reality that some families struggle to provide needed items and with continuous budget cuts and other issues, schools struggle to have the necessary tools to aid learning in the classroom.
The idea of Bag it Forward is to buy an extra set or bag of supplies to give to someone else in need. You can find out more information on their website as well as share photos and stories of your generosity. I was surprised that there wasn't anything posted about this program at Walmart nor could I find any if their reusable bags. I think more people would do it if they could physically receive a bag to fill up and donate! I hadn't heard of this program until this year, but I think I want to participate every year.
School Supplies for Less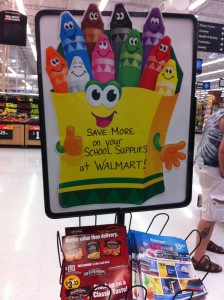 Folders for seventeen cents. Notebooks for forty-two cents. A box of crayons for less than two bucks. I had to hold myself back! Walmart was having some great sales!
Glancing over the school supply lists I was amazed at how long and detailed they've gotten. Seriously, kids need to buy a certain brand of crayon now? What's with that? I didn't have any specific lists but opted to pick up the basics – double everything!
I felt good getting items for my nephew. His mama is in her third trimester with baby number three, so this is one less thing for her to worry about. Though I'm sure there's more on his list, I think we helped cover a good chunk of it!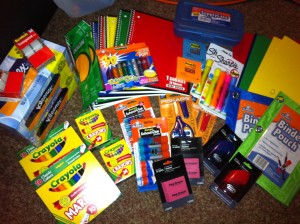 Here's a list of what we got for under $40:
2 boxs of Kleenex
2 10 packs of Crayola Markers
2 24 count boxes of Crayola crayons
2 packs of scotch tape
2 10 packs of #2 pencils
2 pencil sharpeners
2 Elmer's Binder Pouch
2 2 packs of pink erasers
2 6 packs of Elmer's Disappearing Purple & Gel School Glue Sticks
2 4 packs of highlighters
2 packs of Post Its
8 folders
8 notebooks
2 pairs of safety edge scissors
1 pack of Elmer's 3D Washable Paint Pens (they looked so neat!)
1 Storage Box
You can see more about my shopping experience and the great prices I found by looking through my ThisMoment slideshow. (Prices may vary by location.)
I packed up half the supplies in a medium rate box to send off my donation. I couldn't fit the folders though.
My daughter helped… though she was just after the pack of pencils I guess!
Have you ever participated in Bag It Forward before? Who'd you donate it to?
_____
Disclosure: This project has been compensated as part of a social shopper insights study for Elmer's #BagItForward #collectivebias  All thoughts, experiences and opinions are my own and my differ from that of others.
Subscribe
Get weekly sanity saving parenting tips, recipes, and kids activities.