I think every pregnant woman should have at least one baby shower to help her feel special, celebrate the baby and help her with needed baby items. Unfortunately, there are a lot of women in Southeast Wisconsin that don't get a baby shower and struggle to provide for their new little one. These expectant and new mamas need our help.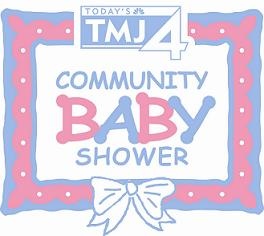 Photo credit: TMJ4
This is where the Community Baby Shower comes in.
Each year TMJ4 hosts the Community Baby Shower in January, gathering donations of new baby items to distribute to families in need. There are a lot of organizations that receive these donations which is a big help.
The type of items they seek include new baby clothes, blankets, formula, hygiene supplies, diapers, wipes, and other common baby items. Donations can be dropped off at participating Sentry food stores until this Friday (1/11/13).
I know I have a few items to donate. I donated a lot of stuff when Rissa was a baby. Outfits she outgrew before I could remove the tags. A case of disposable diapers since we switched to cloth before opening the box.
I think it is a great cause and wish I could do more to help with it!
Subscribe
Get weekly sanity saving parenting tips, recipes, and kids activities.