I'm a big milk drinker – always have been. I prefer it with meals and with sweets. There's just something refreshing about how milk washes it all down. It definitely partners well with a peanut butter sandwich, don't you think? I don't find water, juice or soda to go very well with sticky peanut butter.
Oh and spicy foods? Milk please!
Unfortunately, I've found myself limited to milk mostly at home. I rarely order it at a restaurant unless I'm getting a breakfast meal. Otherwise it just feels… weird. Maybe that's just me though. I do think about drink options more now than I did before because of my daughter.
That girl rivals me on milk drinking! Part of it is just the fact that I serve it to her a lot. She'll drink any type of milk: breast milk, 1%, 2%, whole, milk, chocolate… she loves her milk. When we go out to eat we do our best to order her milk. Thankfully most kids meals offer it as a choice, but if they don't then she gets water.
When we are traveling or out for a day at the park, I tend to just give her water. I don't like to offer her juice much at this age and definitely no soda. Until recently, I didn't know I could take milk on the go with us. Apparently there is shelf safe milk in special packaging that I could pack in the diaper bag. At first I thought it must not be the same kind of milk we are used to, but it's not a milk alternative. It really is cows' milk, just processed and packaged differently so it doesn't require refrigeration until after it is open.
I like my milk cold, so I'm not quite sure if milk on the go will be ideal for me, but Rissa would love it! She doesn't care what temperature it is (seriously), she will suck it down whether it's room temperature or cold. It'd be nice to offer her a nutritious drink no matter where we are! After her last doctor's appointment, I have upped her milk intake since the doctor wants to see her getting more healthy fats in her diet. So… more whole milk is one way we offer that. Plus milk has other important nutrients for a growing (and very busy) toddler.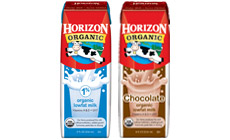 As I was reading more about the benefits of shelf safe milk, I looked up information on where to buy it. (On the shelf!)  I saw Horizon Organic listed, which surprised me. I've seen it before, but I've always seen it in a refrigerated section at the store or an eatery. I never realized it was shelf safe. Now that I do know this, I think I'll get some to pack in the diaper bag.
Heck, I might even pack some in my labor bag… And for the future it'll be a good addition to packed lunches without worrying about it spoiling. No need to include more sugary drinks! Oh and since Rissa drinks a different kind of milk than my husband and I, we could save some fridge space by buying her shelf safe milk and putting it in the cupboard. And you know… it'd probably be a good idea to add some to an emergency preparedness kit.
Do you buy shelf safe milk?

For more information about shelf safe milk, please check out @MilkUnleashed on Twitter or Milk Unleashed on Facebook.


______
Disclosure: This blog post is part of a paid SocialMoms and Milk Unleashed blogging program. The opinions and ideas expressed here are my own. To read more posts on this topic, click here.
Subscribe
Get weekly sanity saving parenting tips, recipes, and kids activities.