Disney's Oz the Great and Powerful Commercial Sneak Peek! #DisneyOz
There's this BIG GAME coming up on Sunday which means lots of awesome commercials. The last few years the competition has been stiff for memorable ads since we now have high expectations for what we'll be watching. Heck, even non-football fans like to check out the commercials to see what all the fuss is about.
This year Disney will have a Sunday spot to share a clip of Oz the Great and Powerful. And guess what? I have a sneak peek of the clip that will air during the game!
OZ THE GREAT AND POWERFUL Sunday Spot – Tease

I just keep getting more excited for this movie! I can't wait to see it in the theater because I KNOW I won't be able to wait for it to come out on Bluray/DVD. (Can you say date night?)
We also have a few new character posters to share with you as well.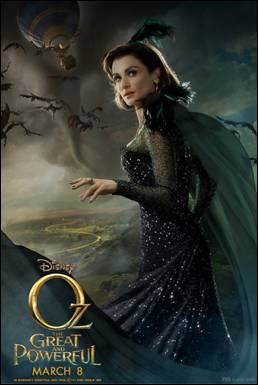 When small-time magician Oscar Diggs (James Franco) pulls one flimflam too many, he finds himself hurled into the fantastical Land of Oz where he must somehow transform himself into the great wizard—and just maybe into a better man as well.
"Like" OZ THE GREAT & POWERFUL on Facebook: http://www.facebook.com/ozthegreatandpowerful
 "Follow" OZ THE GREAT & POWERFUL on Twitter: https://twitter.com/disneyozmovie
 Visit the website: http://www.disney.com/thewizard
OZ THE GREAT AND POWERFUL lands in theaters on March 8th!
Were you a fan of the original Wizard of Oz movie? Will you be seeing Oz the Great and Powerful in theaters?
____
Images and clip provided to us by Disney.
Subscribe
Get weekly sanity saving parenting tips, recipes, and kids activities.