I don't get pampered very often, at least not lavishly. (My husband does a great job with the day-to-day stuff, don't get me wrong!). It wasn't long ago that I shared with you that I got my second pedicure ever in my life. I didn't get another one while in LA, but I did get my make up done by a professional make up artist! I've only had that done a handful of times too (like at my wedding and at my last pedicure). It was a royal treat to be treated like a princess my last night in Los Angeles.
At that point, I kind of needed the loveliness of the evening – all inspired by one of my favorite princesses: Cinderella. I foolishly tried to call my daughter before getting ready for our "blogger transformations."  Although I knew I'd see her the next day, I missed her. I hadn't been able to call earlier in my trip with my schedule and the time zone difference.
When I called, Rissa became very upset at hearing my voice. She started crying and asking me to come back home. It broke my heart as I fought my own tears, assuring her I loved her and would be home tomorrow. Of course she was tired (it was nearly bed time) but it hit straight into my mommy guilt. I definitely needed something to take my mind off of it and resume enjoying my mini-break from home (which I know I don't get enough of either).
After washing my face and calming myself down, I got dressed and headed down to get my makeup done. I was surprised that we were receiving more than just make overs!
I was able to pick out one gorgeous piece of jewelry from Disney Fairy Tale Weddings. These pieces are inspired by Cinderella's coach. I chose the necklace which sparkled around my neck.
Next I realized almost everyone else had a bag on their arm. I received my gift bag and found a few more Cinderella products such as this Cinderella doll with a light up dress… (there is also a really cool transforming coach toy that I want to get.. uhm for Rissa, yeah, that's what I meant!)
Cinderella inspired nail polish from Sephora…
And an adorable Cinderella tee shirt from Old Navy. It's too big for Rissa right now, but you bet I'm holding on to it for her to grow into!
Then it was time to head down to the Gordon Ramsay restaurant inside The London Hotel West Hollywood for the Cinderella Showcase Dinner!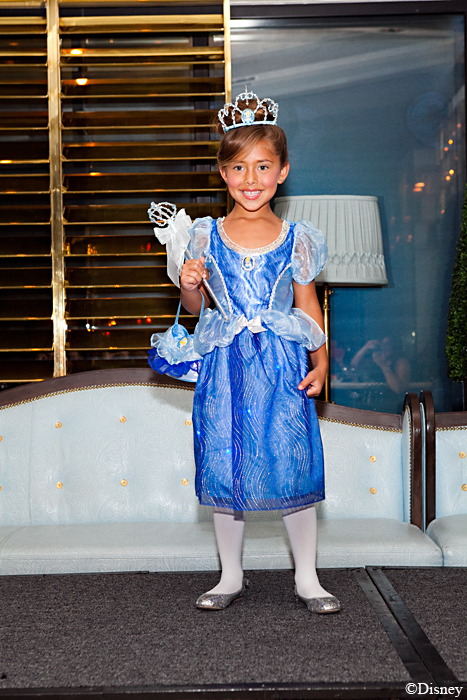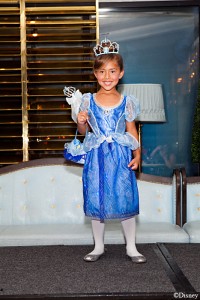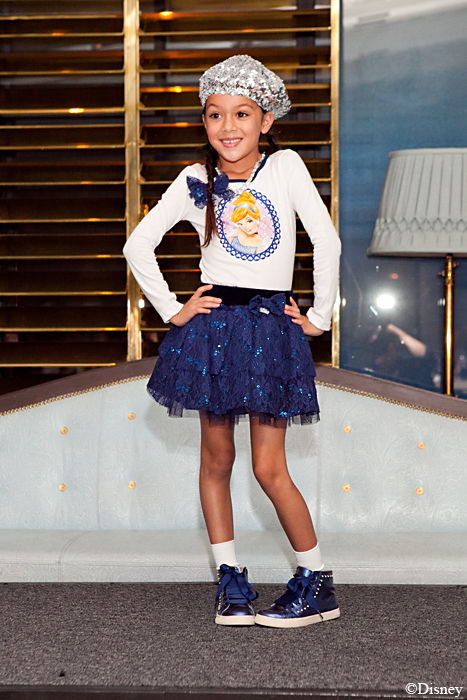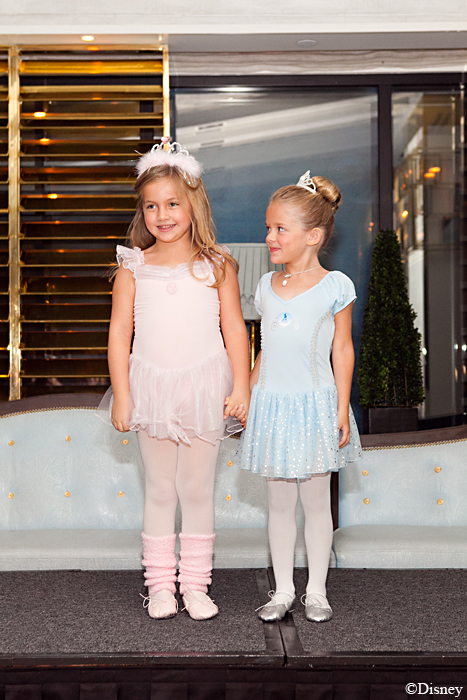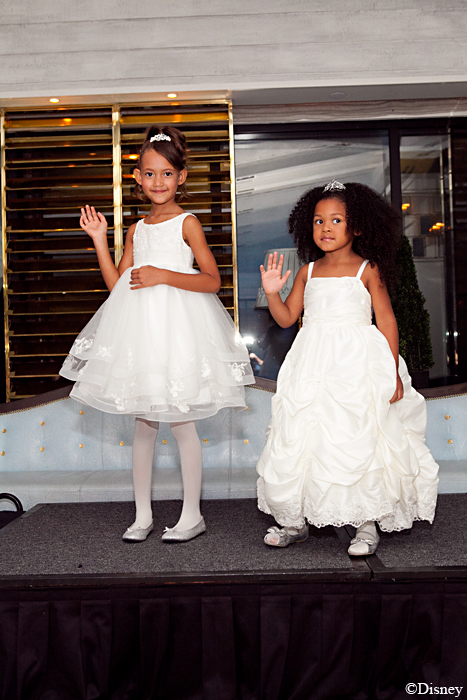 (August 24, 2012, Los Angeles, CA) Mommy bloggers attend Disney Consumer Product's glamorous Cinderella Showcase Dinner at The London Hotel in Los Angeles to experience the new assortment of products celebrating the release of Walt Disney's classic animated film Cinderella on Blu-ray. The event provided guests with the royal treatment, including pampering and accessorizing with Cinderella-inspired cosmetics and jewelry followed by a showcase of the latest Cinderella fashions set to release this fall.

All fashion show photos by: Kayvon Esmaili for Disney / Location: The London Hotel
I foresee a lot of Cinderellas this Halloween, don't you?
We watched a fashion show of even more adorable girls' princess inspired apparel, dined on scrumptious food, and chatted with everyone before having to say our goodbyes and give out hugs. It was a magical evening that was very enjoyable. It was fun getting a sneak peek at products and fashions coming this fall (and sharing it with you!) as well as receiving such elegant treatment for myself!
_______
Disclosure: I attended  this event as part of an all expense paid press trip; no other compensation was received. In my coverage of this event I am sharing my honest thoughts with you.
Subscribe
Get weekly sanity saving parenting tips, recipes, and kids activities.