Disgusting Public High Chairs
Before becoming a mom, I never thought about the state of public high chairs. I even used to think the people who used seat covers were a little too germaphobic, though i figured it made for easier cleanup. Now that I need to use them… Yuck.
That's all I can say.
Yuck.
Have you noticed the sad state of public high chairs? They are often broken and/or filthy. I don't mean a few crumbs need to be brushed off. I'm talking coated with food and goo that is black and sticky. I wouldn't accept it if my table or booth looked like that – so why should our kids?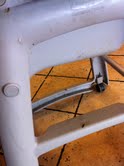 I don't mind doing a little spot cleaning before and after Rissa uses a high chair in a restaurant, but I shouldn't have to scrub it. Shouldn't cleaning high chairs be part of the overall cleanliness expected? And the ones with busted buckles… do they really want to risk liability for a child getting hurt from falling out because there was no way to properly harness the kid in?
Sure, I bring an extra buckle strap with me – but should I have to? I don't travel with an extra chair to seat myself if their chair is broken.
I've been seriously mortified at the state of public high chairs that on some occasions I prefer to just seat Rissa on my knee. I shouldn't have to do that or consider it.
I do have a cover, but it's not always with us and doesn't always fit over the type of seat the restaurant has. The filthiest places don't matter if the cover is on because the sticky coated buckles are still touched by little hands.
I've stopped being nice and no longer put the chair away if it's at a place where I have to get it myself. Maybe then they'll take two seconds to wipe it down along with the table.
Have you noticed the sorry state of your local public high chairs?
Subscribe
Get weekly sanity saving parenting tips, recipes, and kids activities.