Diaper Rite Pocket Diapers With Suedecloth & Bamboo Review & Giveaway (US/CAN) 4/8/12
One of the things I love about cloth diapers is the variety available. I wish I could try every single one out there! At the end of last year, I was able to try out a one size Diaper Rite pocket diaper. I found it to be a pretty darn good reusable diaper for less than $10. They also have a bamboo pocket diaper for less than $12, which I'm happy to say I got to try out now, too!
So let's take a look at these Diaper Rite pocket diapers I received recently – one has a suedecloth inner (like the last one I reviewed) and the other one has bamboo.
In each of these pictures, the bamboo diaper is on the right. It might not be easy to see the difference in the texture, but wow is it plush.
I apologize for not having pictures of Rissa wearing them. I didn't get pictures snapped before our yeast issue. You can check out the last review I did though and see how the fit looks on her.
So what can you expect with these?
Diaper Rite Features:
Pocket diaper
18 colors to choose from
TPU (Thermoplastic Polyurethane) Outer
Suedecloth inner to provide that "stay dry" feeling for $9.95
Natural Bamboo Terry inner provides added absorbency for $11.95
2 (3 layer) Microfiber Inserts; 1 small & 1 large
Durable snap closures
Hip snaps
Cross over snaps (great for skinny minnies!)
Adjustable from 8 – 35 lbs
I still feel Diaper Rite diapers are good quality for their affordable price. The suedecloth pocket I received in November is still holding up well now in March. It gets used at least weekly! The two new ones were right in the rotation as soon as I prepped them, but everything is going through rigorous washing right now. Inserts are holding up just fine as are the shells. The bamboo one doesn't seem to dry quite as quickly on the line (in the basement), so I give it extra time or toss it in the dryer to fluff up a bit.
I think it's crazy that my 17 month old daughter, who is barely 20lbs, still wears most of her diapers on the inner waist snap settings, these included. For her slim thighs, they do a good job of containing everything. Overnight is tricky because if I stuff them for her nighttime absorbency needs, then they gap at her thighs like most of our diapers do.
Now, if they would unstuff themselves in the wash… oh boy, oh boy that would be awesome! They are a good, affordable cloth diaper though and you'll want to try them out – especially the bamboo one.
You can purchase these diapers exclusively at Diaper Junction!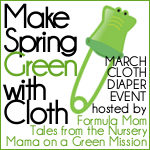 So how well do these work on a 20 month old boy and his newborn sister? Find out at Mama on a Green Mission! Do these really fit a 35lb toddler? Find out at Formula Mom!
Prize!
2 Diaper Rite OS Pockets with Bamboo and 2 Diaper Rite OS Pockets with Suedecloth (colors subject to availability)
Giveaway!
This giveaway is being hosted by Tales From the Nursery, Mama on a Green Mission, and Formula Mom. You only need to enter on one of our blogs!
Log into the Rafflecopter form either with your Facebook account OR just name & email (this will help it remember if you entered already!)
Required entry to enter is the main entry – the rest are optional extras.
Click "Do It!" to see the directions for the entry option. Read the instructions and complete them, then click "Enter!" to fill in the requested information. If you submit without completing tasks, your entries will be invalid
Subscribe
Get weekly sanity saving parenting tips, recipes, and kids activities.