Baby Gear Accessory Review | CityGrips Stroller Handlebar Cover
Just a few short weeks ago, it was unseasonably warm and sunny here in Wisconsin. No snow on the ground, temps above 40 degrees, and sunny! Despite the brown look of the grass, it was spring like enough that we had to take advantage of it and get out of the house for a nice walk.

We bundled Rissa up since the air still had a cold bite to it and she'd be sitting in the stroller. Brian dug the stroller out, sooner than we expected to of course! It was the perfect time to try out CityGrips, a trendy stroller handlebar cover.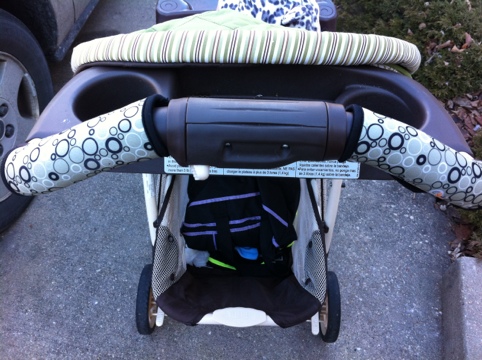 CityGrips were created by a mom looking for a solution to uncomfortable stroller handles. I've pushed a fair amount of different styles over the years and yeah, most are not very comfortable – especially for long trips. They help prevent sweaty slippage in warm weather by absorbing sweat and offer a better way to keep your handles clean! Also, they will make stroller stand out in a crowd, especially when left in stroller parking – easier to retrieve!
CityGrips come in a variety of patterns and colors making them a fashionable yet functional stroller accessory. They are very easy to put on (you can get them for single handle bars or double) and provide comfortable padding. Mine didn't lay completely flat along the Velcro but my handle has an odd curve in it. They still fit and worked … And looked nice!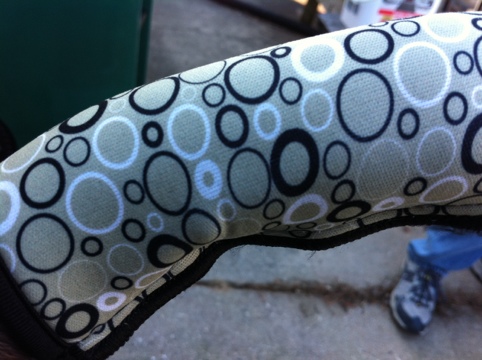 I didn't get a chance to try, but I bet these would really help pad infant carrier handles too. Might have to dig ours out of the basement to try!
Favorite feature: How easy they are to put on. I don't have time for complicated stroller accessories! Plus these fit virtually any stroller.
Least favorite: I don't really have one.
Conclusion: While not necessarily a must have baby item, CityGrips are a very nice stroller accessory. Fashion, function, and affordable! Makes a great shower gift!
Where to buy: On their website CityGrips and a few select boutiques.
Subscribe
Get weekly sanity saving parenting tips, recipes, and kids activities.